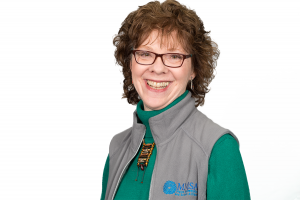 MMSA Title: STEM Education Specialist
Joyce Tugel is a K-12 STEM Education Specialist at the MMSA. Her work is primarily focused on teacher leadership, professional development in the areas of science curriculum, instruction and formative assessment, STEM integration, and implementation of the Next Generation Science Standards. She partners with community-based learning initiatives to provide academic STEM support, and provides professional development support in Maine and across the nation. Prior to coming to  MMSA in July 2005, she was a science professional development specialist at the TERC Eisenhower Regional Alliance for five years, taught high school chemistry and physical science for ten years, and was a researcher in environmental biogeochemistry for ten years. She received her B.S. and M.S. degrees in Microbiology and secondary science teaching certification from the University of New Hampshire.
Joyce has served on the National Science Teachers Association and the National Science Education Leadership Association Board of Directors. She is a Fellow of the National Academy for Science and Mathematics Education Leadership. During her teaching career, she received the Presidential Award for Excellence in Secondary Science Teaching, the Milken Foundation National Distinguished Educator Award, and the New England Institute of Chemists Secondary Teaching Award.
Joyce enjoys spending time with her grandchildren, exploring their world through STEM adventures.
Phone: (207) 899-8661
Email: all emails are first initial last name at mmsa.org
Projects:
Afterschool Coaching for Rural Educators in STEM (ACRES)
GEAR UP
MMSA Consulting Coordinator
Publications:
Joyce is a co-author of two books in the NSTA Press
Uncovering Student Ideas in Science
series and editor of Notes from the Field, Teaching for Conceptual Change: Uncovering Student Thinking in Science Through Action Research.