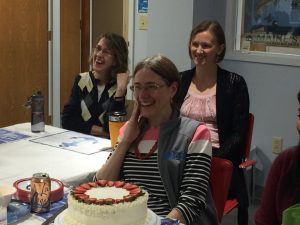 This June MMSA said goodbye to one of our STEM educations specialists, Lisa Marchi as she embarked on the new chapter known as retirement. Lisa was with MMSA for 8 years after a long career as a middle and high school science teacher. In her work at MMSA Lisa was driven by the passion to help teachers acknowledge their strengths and realize their potential, as well as help ensure that all students receive an excellent education.
Lisa has been an outstanding secondary science specialist over the years. During the last few years she also stepped out of her comfort zone to take on coordinating the Exploring Computer Science (ECS) project. Lisa led the development of lessons that tied ECS to Maine based businesses that are rich in computer science.
She also took on the challenge with zero extra training in media production to create, develop, edit, and perfect a series of videos with closed captioning (for accessibility), text in frame, and many engaging bells and whistles, on topics ranging from data analysis (using Department Inland and Fisheries biologists) to robotics (using staff at a small machine shop in Bristol).
Lisa was also instrumental in the WetherBlur Citizen Science in the Classroom project. She developed the support structures for participating teachers, encouraged everyone in the online community and kept the massive project headed in the right direction.
Lisa played a pivotal role in countless other professional development initiatives during her time here at MMSA. We will miss her "no funny business" attitude, amazing organizational skills and her suggestions for "how to keep it real" for education in the classroom.
We wish Lisa the best as she embarks on the new journey of retirement!