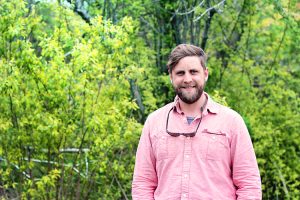 MMSA Title: STEM Education Specialist
Phelan Gallagher joined MMSA in May 2019 as a STEM Specialist in Technology Education, which also serves as the program manager for the AR Girls project. Before joining MMSA, Phelan was the technology director and new media teacher at Harpswell Coastal Academy. At HCA, Phelan developed a studio based technology rich arts curriculum that included documentary studies, media production, oral history, and House Band (a student-led ensemble dedicated to learning and performing contemporary music). He also created a place-based oral history project in collaboration with HCA students, the Harpswell Heritage Trust, and Holbrook Community Foundation culminating in Harpswellstories.org, a student-created oral history archive for the community. His work with students has affirmed a belief in the power of digital tools to foster creativity and bring people together and he continues to be pulled towards the intersection of art, science and technology.
Phelan holds an MA in Teaching from Hunter College and a BM from Loyola University in New Orleans. He has also taught in public schools in New Orleans, New York City, and Vermont. In addition to teaching and learning, Phelan is a saxophonist and aspiring percussionist who enjoys making beats and sounds in his music studio. He lives in Arrowsic with his wife, pets and piles of boats and instruments.
Phone: (207) 626-3230
Email: all emails are first initial last name at mmsa.org
Projects: