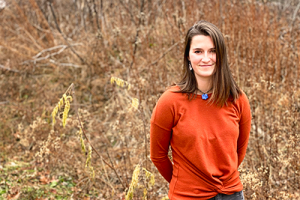 MMSA Title: Digital Media Specialist
Sierra joined MMSA in November 2019 after graduating from Eckerd College with a B.A. in Environmental Studies and Interdisciplinary Arts. She has worked in many different environments including sailing tall ships in Maine and New Zealand and taking videos and photographs for Maine Audubon, The Nature Conservancy, and Sailing Ships Maine.
She is the Digital Media Assistant working among several different projects. She is passionate about STEM education and providing resources to those interested in becoming innovators. She hopes to create inspiring content that bolsters the mission and goals of MMSA.
She likes to hike and travel with her husky Echo and partner, or listen to live music and eat tacos with friends. She volunteers with the Maine Audubon, promotes sustainable practices, and tries to raise environmental awareness.
Phone: (207) 626 3230 x104
Email: all emails are first initial last name at mmsa.org