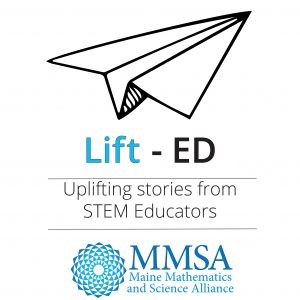 In this episode, Rebecca Clark Uchenna, STEM education specialist at MMSA, WeatherBlur Coordinator & co-fair director for the Maine State Science Fair, speaks with Science Fair 1st place award winner, Vetri Vel, a Junior at Bangor High School, 2nd place award winner, Amara Ifeji, a Senior at Bangor High School, and 3rd place award winner Patrick Wahlig, a Freshman at Falmouth High School.
lift-ED is a bite-sized podcast about teaching and learning in STEM Education produced by the Maine Mathematics and Science Alliance located in Augusta, Maine, USA.
Help us to bring you more...
MMSA provides support and resources to educators across Maine, the country and beyond.   Consider supporting this work by becoming a contributor.  Click here for details.