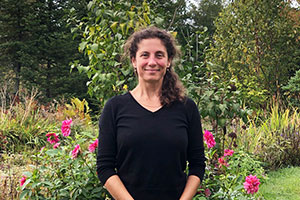 MMSA Title: Research Associate
Hometown: Blue Hill/Surry area
Education: Smith College BA in Geology; Antioch University New England MS in Environmental Studies, concentration in Environmental Education (there are a few of us AUNE alums at MMSA!)
Something you're proud of at MMSA: We "walk the talk at MMSA" with meetings and interactions between colleagues based in theories of diverse learning styles.
STEM passion area: I'm a science person – my brain likes to gather data, organize it, and implement informed decisions – in nearly all parts of my life. It's fun to have a job that allows that part of my brain to be fully engaged in pursuit of meaningful work in my home state.
What do you like most about your role at MMSA: Collaborating with colleagues at MMSA and partner organizations to evaluate innovative, powerful and exciting educational programs in Maine
What did you do before you worked at MMSA: I have worked for a variety of organizations, ranging from large research universities to tiny nonprofits, providing educational, organizational, and communications support. I've also worked as a carpenter, caterer, and landscaper, as part of what I affectionately call the "Maine Hustle." Some of my favorite work has included working as a peer writing tutor while attending a graduate program at Antioch University, and helping to analyze and communicate evaluation results for small community-revitalization nonprofits.
What do you like to do in your free time: I enjoy making and sharing local food with friends and family, spending time near the ocean, and getting lost in conversations and novels about human relationships.
What memory from your childhood would you like to share that exemplifies why you do the STEM education related work that you do: I used to love dissecting the stomachs of fish my father and I caught. Discovering what the fish had been eating, finding out very own bait in there, or simply exploring the internal maze of a fish gut … this type of natural and hands-on exploration is inextricably linked to my desire to study science, and I believe that these types of experiences can be very powerful. When activities have connection to students' inherent interests/daily lives, there is big potential for deep, engaged, sustained and meaningful learning.
Sasha's Bio: Sasha Breus joined MMSA in June 2021 as a Research Associate. Sasha holds a Masters of Science in Environmental Studies from Antioch University New England, (where a few other MMSA staff attended graduate school), and a Bachelor of Arts in Geology from Smith College. Sasha's work history is rich and diverse, ranging from academic researcher to writing tutor to caterer and carpenter. At MMSA, Sasha is excited to discover the stories and data that can help communicate the power of outdoor, place-based and environmental education. She values collaborative work and iterative processes as important elements of generating positive impact in Maine and beyond. Sasha enjoys spending time outside near the ocean, sharing local food with family and friends.
Pronouns: she, her, hers
Email: all emails are first initial last name at mmsa.org