A Thinking Student is an Engaged Student
Sparked by observing teachers struggle to implement rich mathematics tasks to engage students in deep thinking, Peter Liljedahl has translated his 15 years of research into this practical guide on how to move toward a thinking classroom. Building Thinking Classrooms in Mathematics, Grades K–12 helps teachers implement 14 optimal practices for thinking that create an ideal setting for deep mathematics learning to occur. This guide
Provides the what, why, and how of each practice and answers teachers' most frequently asked questions
Includes firsthand accounts of how these practices foster thinking through teacher and student interviews and student work samples
Offers a plethora of macro moves, micro moves, and rich tasks to get started
Organizes the 14 practices into four toolkits that can be implemented in order and built on throughout the year
When combined, these unique research-based practices create the optimal conditions for learner-centered, student-owned deep mathematical thinking and learning, and have the power to transform mathematics classrooms like never before.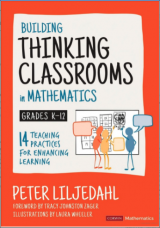 By participating in the Book Study you will:
Work with other educators to reflect on the 14 practices and engage in thinking tasks together.
Gain a supportive group of colleagues to share successes and challenges with as you try out some of the 14 practices.
Receive a $100 honorarium and up to 21 professional learning contact hours.
Four meet-ups (on Zoom)
Thursdays, 3:30-5pm
February 3, March 10, April 7, May 12, 2022
Read Sets of Chapters Related to Various Toolkits to Build your Thinking Classroom in Mathematics
Discuss related practices:
Feb 3: Toolkit 1 (Thinking tasks; Visibly random groups; and Vertical Non-permanent surfaces)
March 10: Toolkit 2 (Defronting the classroom; Keep thinking questions; When and how to give tasks; Check-your-understanding questions; Mobilizing knowledge)
April 7: Toolkit 3 (Hints and extensions to maintain flow; Consolidate from the bottom; Meaningful notes)
May 12: Toolkit 4 (Evaluate what you value; Where students are and where they are going; Grade based on data)
This opportunity was made possible through the generous support of an anonymous donor. MMSA TEAM: Becky Tapley, Chelsea Fay, Hannah Lakin, and Cheryl Tobey