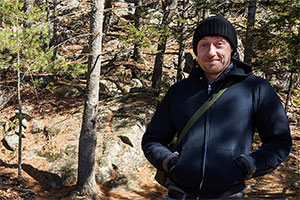 MMSA Title: Digital Media Specialist
Hometown: Warren, ME
Education: B.A. in Film Production, Emerson College
Something you're proud of at MMSA: I'm proud of MMSA's support for educators across the state and beyond, and of the work environment in which we collaborate to create that support.
STEM passion area: Physics! The rules for how everything moves are fascinating.
What do you like most about your role at MMSA: Using my professional storytelling skills to help the organization make positive change in the world.
What did you do before you worked at MMSA: I was the assistant curator & videographer at the Owls Head Transportation Museum.
What do you like to do in your free time: Have backyard campfires with close friends.
Pronouns: he, him, his
Phone: (207) 626-3230 x140
Email: all emails are first initial last name at mmsa.org