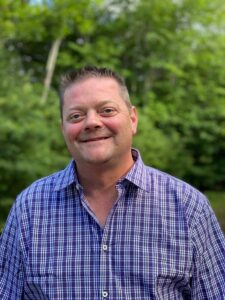 MMSA Title: IT Specialist
Hometown: New Gloucester
Education: AS Southern Maine Community College, Google Systems Administrator
What is your teaching/learning philosophy? "Creativity is more important than knowledge," Albert Einstein. Theory and proof are the checks and balances of science and life. I am amazed by new discoveries and encourage life-long learning so that we can better understand our existence.
What is your STEM passion area? Why? Technology. I was born in 1970, at the beginning of the microprocessor revolution. My passion for systems that assist humans in every task has always excited me.
What do you like most about your role at MMSA: I am being involved with a group of exceptional people with a mission aligning with my values.
Favorite STEM-related memory Watching both of my children graduate with degrees in STEM-related fields. My daughter is the oldest and a Doctor of Pharmacy, UNE. She was also a track star. My son is a Software Engineer who graduated from WIT, Boston. He is also a rock star. Proud parent.
What did you do before you worked at MMSA:
IT Director, The Collaborative School, New Gloucester, ME
IT Specialist, MSAD 6, Bonny Eagle Schools
Field Engineer, Satellite Communications
What do you like to do in your free time:Landscaping, bird watching, home improvement, and cruising the roads in a well-made automobile.
What memory from your childhood would you like to share that exemplifies why you do the STEM education related work that you do? Computer camp in the summer of 1983. I wasn't very good at basketball but I killed it on the computer. While all my friends attended the "SWISH" basketball camp at USM, I enrolled in Computer Camp on the same campus at the same time. This was the best experience of my life and it changed me. We, nerds, learned and developed a process to remotely control a pneumatic hand using an Apple II computer. The rest is history.
Pronouns: he, him, his
Email: all emails are first initial last name at mmsa.org