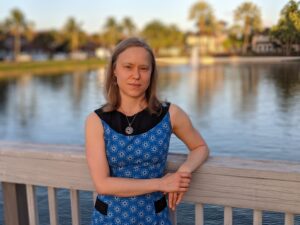 MMSA Title: STEM Education Specialist – Informal Education Research
Hometown: Andrews, SC
Education: PhD in Science Curriculum & Instruction at Clemson University
When did you start working at MMSA? November 1, 2022
What projects are you currently working on? ACRES, iWonder
Something you're proud of at MMSA: I'm inspired to be part of a culture where we are always trying to improve what we do in our work and in our interactions with one another, leveraging this commitment to leave a conscious and purposeful mark on the field and practices of STEM education.
What is your teaching/learning philosophy? All learning is identity work. As such, learning is meaningful when it is considered as relational rather than individual, and identity development happens through the development of the identity of the social group.
What is your STEM passion area? Why? Anatomy and physiology. I love the empowerment that can come from knowing and understanding the human body, and I am especially excited about how family and cultural knowledge aligns with Western scientific understandings of how the body operates.
What did you do before you worked at MMSA? Postdoctoral Research Associate at Florida International University
What do you like to do in your free time? Hiking in the mountains, playing with my cat
Pronouns: she, her, hers
Email: all emails are first initial last name at mmsa.org
Publications
Dou, R., Cian, H., Hazari, Z., Sonnert, G., & Sadler, P. M. (2023). Childhood experiences and undergraduate student interest in STEM disciplines: Attending to setting and activity type. Annals of the New York Academy of Sciences.
Cian, H., Dou, R., Castro, S., Palma‐D'souza, E., & Martinez, A. (2022). Facilitating marginalized youths' identification with STEM through everyday science talk: The critical role of parental caregivers. Science Education, 106(1), 57-87.
Dou, R., & Cian, H. (2022). Constructing STEM identity: An expanded structural model for STEM identity research. Journal of Research in Science Teaching, 59(3), 458-490.
Cian, H. (2021). Sashaying across party lines: evidence of and arguments for the use of validity evidence in qualitative education research. Review of Research in Education, 45(1), 253-290.