You don't need to be an expert in computer science to host this event in your community. In fact, we can provide you with everything you need, including training, marketing materials, and scripts to introduce the activity to your participants.
The Family Code Night activities are online, and participants work in pairs to solve 20 puzzles in a Blockly-based interface. The puzzles are interspersed with short instructional videos featuring young people who work in the computer science field. Participants work at their own pace, taking turns on the puzzles. The puzzles grow in complexity, allowing participants to learn and build on new skills. They track their progress on a printed card, and if they complete all 20 puzzles can move on to a more advanced art-based puzzle.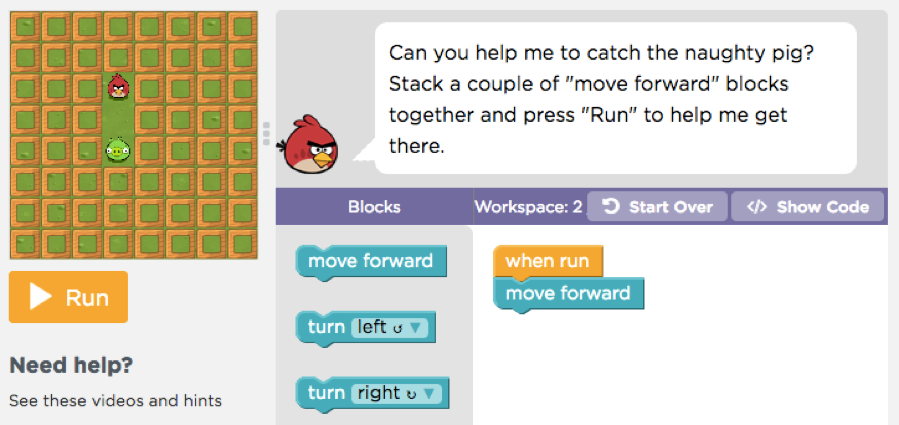 To host a Family Code Night, you'll need a room large enough for all participants to sit in pairs with table space. Each pair will need a computer or tablet, and most hosts ask participants to bring their own if they can. You should plan to have some devices on hand to loan to participants. You'll also need WIFI that all participants can access.  And since we'll provide an introductory slideshow, you'll want to have a computer of your own with a projector. If you're in a large room, such as a cafeteria or gym, consider using a PA system so everyone can hear you.
Although you can run the event on your own, it's helpful to have some volunteers who can move around the room to monitor participants' progress and give them guidance if needed. Your volunteers could be parents, teachers, librarians, or even teens. While it's helpful if they've had some experience with Scratch, they will likely feel comfortable with helping by just working through the puzzles once or twice before the event.
Getting Started
Step 1. Choose the date, time & location to host your Family Code Night.
Step 2. Register as a host using the form below.
Step 3. Review the following resources and download the event kit:
Step 4. Spread the word about your event and have people register to attend.
Step 5: Attend one of the Family Code Night webinars on October 24th (or review the recording, which will be linked here, anytime after that date).
Step 6. Keep us posted on how many attendees you expect and let us know if you need any additional assistance.
Step 7. Print handouts and review your plan for the event.
Step 8. Host your Family Code Night!
Step 9. Provide feedback after your event using our online evaluation form.
Register to Host a Family Code Night