Base Station is the product of STEMports – a National Science Foundation (NSF) funded collaborative research project between the Maine Mathematics and Science Alliance and the Field Day Lab at the University of Wisconsin-Madison. Base Station is an augmented reality game for community-based STEM learning and workforce development. STEMports engages youth and families in missions (ports) to enhance science, technology, engineering, and math learning, and to help them discover emerging STEM careers in their communities.
The STEMports project team is working closely with regional partners, such as the Maine Organic Farmers and Gardeners Association (MOFGA) in the central midcoast, and Maine 4H Cooperative Extensions in the western foothills to help co-design the game with community participants. Co-design teams and community advisory teams in each region will guide both the development of the gaming platform (a phone and web-based app) as well as the content of the game quesys.
Base Station is publicly accessible, and networks of stations may include land labs or land trust properties, old mill sites, research labs and institutes, farms or industrial sites, local state or national park sites, and marine or forest sites of interest. Each quest may include content and storylines in the fields of sustainable agriculture and aquaculture, forest products, and renewable energy to mention just a few.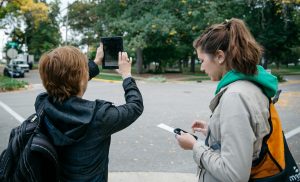 Quests may include: basic information about the site and how it relates to a local emerging STEM economy; locally driven investigations that incorporate real-world scenarios (e.g. solar farms, water quality, sustainable transportation, environmental education programs, etc.); design challenges that may have the participant work offline with others; and opportunities to reflect on the experience as well as be part of a project team to design further learning activities that may change and adapt over time.
Participants in the co-design teams will not only be learning about innovative, cutting-edge computer science technologies but will also create game content and opportunities for other players. Rural communities have a great deal of STEM embedded in the community's identity, but that identity often goes unnoticed or underappreciated. STEMports will challenge the mentality that a STEM education and career are only available to upper-income youth and adults in urban areas. The reality is that STEM identities of rural communities are truly embedded in the culture of the community. STEMports is aimed at honoring, amplifying, and redefining the STEM identities of rural communities so that the community's youth and adults can see that a STEM workforce can emerge and grow locally.
Stay tuned for information about Base Station and how to be involved with a co-design team.