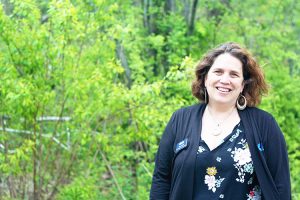 MMSA Title: STEM Education Specialist
Hometown: Longmeadow, MA
Education: Undergrad From University of New Hampshire ins Environmental Conservation with a minor in Education and Marine Biology. Graduate degree is a Master of Education from UNH with a focus on Tech integration into Informal Education
Something you're proud of at MMSA: I loved that we are able to support educators as they virtualized their offerings during Covid
What is your teaching/learning philosophy: I believe giving youth voice and choice is extremely important. I believe reflecting on the questions we ask, helps us better facilitate STEM experiences.
STEM passion area: I entered into STEM because I was passionate about Marine Ecology and Conservation. Though at first I wanted to be a dolphin trainer, I now love and embrace the idea that STEM is connected to everything.
What do you like most about your role at MMSA: I have so much respect and admiration for educators. I love coaching resourceful and creative professionals.
Favorite STEM-related memory: As a child my parents let us explore the woods and the ocean as often as possible. I made so many discoveries without even realizing how much I was learning.
What did you do before you worked at MMSA: Before I worked at MMSA, I was the Education Director of the Seacoast Science Center in Rye, NH
What do you like to do in your free time: I spend lots of my free time making my very small front lawn into a productive garden. I also love to go whale watching and take walks with friends. I spend lots of time dabbling in creative projects too, like creating felted soaps for friends or making stained glass as gifts.
What memory from your childhood would you like to share that exemplifies why you do the STEM education related work that you do: As a child I hated always having to answer other people's questions, but never being encouraged to answer my own questions.
Perrin's Bio: Perrin joined MMSA in March of 2016. She currently serves as the project manager on the ACRES (Afterschool Coaching for Reflective Educators in STEM) project and serves on the communication committee within MMSA. Perrin works to connect out of school providers to STEM resources through in-person and virtual professional development. At the heart of her work is the facilitation of online professional learning communities. Perrin began her career as a classroom teacher. She taught math and science to middle school students first in Lawrence, Massachusetts, and then in Newbury, Massachusetts. Perrin went on to work as the Education Director of the Seacoast Science Center in Rye, New Hampshire, for 14 years. Perrin has an undergraduate degree in environmental conservation, with dual minors in marine biology and education. Perrin's Master of Education degree is from the University of New Hampshire, where she focused her efforts on integrating technology into informal education. In Perrin's free time, she enjoys spending time with her family and friends in southern, coastal Maine. She enjoys volunteering at regional swim meets as a stroke and turn judge, and helping to grow her husband's community art endeavors.
Pronouns: she, her, hers
Phone: (207) 626-3230 x118
Email: all emails are first initial last name at mmsa.org
Projects: