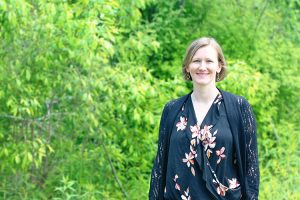 MMSA Title: STEM Education Specialist
Hometown: Gardiner, ME
Education:B.S. in Landscape Horticulture with a minor in Plant Science from University of Maine; Certificate in Instructional Design & Technology from Walden University; Certificate in Data Science from University of Maine at Augusta.
Something you're proud of at MMSA: The way we've been able to grow participation in the Maine State Science Fair from a small cohort of high schools to a diverse group of public, private, charter, urban, and rural Maine schools.
What is your teaching/learning philosophy? I believe that some of the best learning happens in a hands-on environment, coupled with the learner having an opportunity to teach others or share with them what they learned.
STEM passion area: I love data, especially the challenge of effectively visualizing data and using it to tell compelling stories about our world.
What do you like most about your role at MMSA: I enjoy working on the Reach project because we are a bit of a testbed when it comes to trying out new ways of engaging youth in STEM outside of school. Some of what we've tried has been wildly successful, but we've also fallen on our faces a few times. It's nice to work in an environment where we are allowed to fail and are encouraged to learn from it and try something else.
Favorite STEM related memory: When I was very young, we lived next door to an elderly couple I called Nanny and Pappy. Pappy taught me how to draw animals and Nanny taught me all about gardening. I think that's why UMaine's Horticulture program caught my eye as I flipped through the course catalog senior year.
What did you do before you worked at MMSA: I served three terms in AmeriCorps; one at Friends of the Cobbossee Watershed, one at Department of Environmental Protection, and one in the VISTA Program. I then traveled to schools around Maine doing hands-on energy & climate activities with Maine Energy Education Program. I spent several of those years as MEEP's Director of Operations.
What do you like to do in your free time: I enjoy gardening, baking, listening to music, singing, reading, graphic design, playing games, and spending time with family.
What memory from your childhood would you like to share that exemplifies why you do the STEM education related work that you do: I spent a lot of time getting into things in my dad's toolshed: building furniture of questionable integrity, whittling, and trying to fix things when they broke. The parts of school I remember most involve solving problems, from challenges presented by our physics teacher Mrs. Moody to participating in Odyssey of the Mind. I like to think that by bringing the Maine State Science Fair to more parts of the state, I am giving more students the opportunity to make some memorable learning experiences of their own.
Phone: (207) 626-3230 x116
Email: all emails are first initial last name at mmsa.org