STEM is all around us. It's in the natural world, the built environment, and the communities where we work, learn, and play.
Reach is a long-term initiative that seeks to connect youth to more STEM outside of schools, particularly in rural parts of Maine. We leverage community resources to support youth ages 10-18 and their families to link them to STEM opportunities through three major efforts:
Maine State Science Fair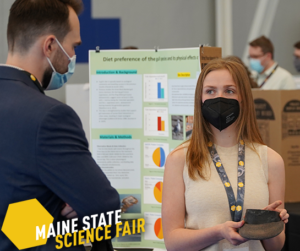 Reach cosponsors MSSF with The Jackson Laboratory. This statewide event for Maine high school students gives them the chance to meet like-minded youth and present their science and engineering projects with judges from around the state. Since 2017, MSSF has collaborated with Maine colleges and universities to give approximately $5M in scholarships to participants. Visit the MSSF site to learn more about participating as a student, teacher, judge, or sponsor.
Middle School Science & Engineering Fair
Destination Imagination
Computer Science
In 2017, we brought Family Code Night to Maine, exposing over 1,500 elementary-aged youth and their parents to coding through fun, collaborative puzzles. In 2018, we piloted a drone version of Family Code Night for middle schools, which combined coding with awareness of real-world drone applications. The Family Code Night movement has grown and is now called CS is Elementary.  
Reach has convened stakeholders in computer science education over the last several years. A coalition launched in 2017, called Computer Science for Maine, deals specifically with expanding and improving CS education in Maine. Visit our publications page to read more about those efforts.
Reach has also promoted Scratch Day and Hour of Code in schools and afterschool settings.
Equity in Out-of-School STEM
Reach convenes people and organizations with common interests around STEM education. Past convenings include energy education, STEM internships, STEM competitions & challenges, STEM schools New England science fairs, and rural science fairs. If you have an idea for a convening, please reach out to us.
STEM Resource Bank
One of Reach's first projects was to create a directory of STEM organizations and events for families around the state. Our database became part of The Connectory, a site run by the National Girls Collaborative Project, in 2015.