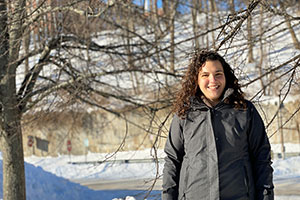 MMSA Title: STEM Education Specialist
Hometown: Otis, ME
Education: B.S in Ecology and Environmental Science from UMaine, M.A. in Teaching with a focus on Secondary Science; Certified k-8 Teacher, 7-12 Science Teacher, and Building Administrator
Something you're proud of at MMSA: I am so proud of the work we do at MMSA to put teachers in the role of researchers. Our projects that utilize the Research to Practice Partnerships get to the heart of my own personal philosophy that the solutions to problems faced by groups of people are best solved by those people. As we look to find new and innovative ways to support teachers, we need teachers looking with us. I am so proud we have been able to build more projects that are structured in this way and am looking forward to working more deeply with teachers from Maine and around the country.
What is your teaching/learning philosophy: I believe the most powerful lessons come from helping our students understand deeply the place they occupy. This sense of place can be a thread running throughout the curriculum. If we fully understand, value, and acknowledge both the history of our place, the ecology of our place, and the societal context of our place, we will be well situated to more deeply understand different people and the places they occupy.

STEM passion area: I absolutely love ecology – the intersection of living and non-living – rocks, rivers, trees, fish – how they support each other. The intersection of all of these areas has fascinated me since I was very young and continues to stop me in my tracks as an adult.
What do you like most about your role at MMSA: I am a student at heart. I think I could have happily stayed in school for my entire life – soaking up whatever anyone was willing to teach me. At MMSA I have been not only allowed, but encouraged, to learn new things. Having co-workers who can challenge my understandings and bring new information to light is a gift.
Favorite STEM-related memory: My favorite STEM-related memory is actually what spurred me to go into education. A friend of mine worked for a local, small, nonprofit that used to take students out in war canoes to paddle the Penobscot River. Volunteers would paddle the entire river – from source to sink – and stop along the way doing watershed and ecology lessons. They were short-handed and asked if I'd like to come along. How could I say no to a guided paddle down an iconic Maine river? Teaching students was supposed to be the afterthought. Turns out – it was everything. I had no idea how much joy I would find in sharing my love of bogs and swamps with 6th graders. I was so overwhelmed with those few weeks and how much impact I could see we were having, that I left my position and returned to school to get my Master's and transition to the classroom. I have been involved in STEM education ever since.
What did you do before you worked at MMSA: Before coming to MMSA I spent 16 years teaching in public middle and high schools in Maine. I also dabbled in freelance writing.
What do you like to do in your free time: I love to spend time on our little farm, hike, and write.
Rhonda's Bio: Rhonda joined MMSA in January of 2019 as a STEM education specialist. Rhonda graduated from the University of Maine with a Bachelor of Science in Ecology and Environmental Science and a Master of Arts in Teaching. She is a certified K-8 Teacher, 7-12 Life Science Teacher, and a Building Administrator. Before joining MMSA, she taught at the middle and high school level for fifteen years. During that time, she collaborated frequently with MMSA and other local and national research organizations and Universities to provide unique, place-based, classroom experiences as well as move the conversation about teaching and learning forward for our state. Rhonda is the program manager for Weatherblur as well as our newly launched PeBLES2 project – designing place-based, science units at scale. Rhonda lives in Otis, Maine with her husband and three children where they dabble in bees, maple syrup, pigs and chickens.
Pronouns: she, her, hers
Phone: (207) 626 3230 x123
Email: all emails are first initial last name at mmsa.org
Projects:
Partnership for Rural Women in Math Careers
PeBLES2
Weatherblur
Publications:
Nickerson B, Tate R, Byrd S, Kermish Allen R, Buffington P. A Network Mapping Approach to Integrating Computational Thinking and Computer Science into the Rural K-8 Classroom. [Print]. CSforALL and Sagefox Consulting Group; 2021 October. Available from: https://csedresearch.org/articles/article/?id=1165.
Tate R, Kermish-Allen R, Buffington P, Byrd S, Nickerson B. Rural Research-to-Practice Partnerships Integrating Computer Science K-8. 2020 Research on Equity and Sustained Participation in Engineering, Computing, and Technology (RESPECT). 2020 December.
Tate R. Citizen Science in a Maine Middle School Classroom. Maine Policy Review. 2017; 26(2):69.
Fidler AL, Vanacore RM, Chetyrkin SV, Pedchenko VK, Bhave G, Yin VP, Stothers CL, Rose KL, McDonald WH, Clark TA, Borza DB, Steele RE, Ivy MT, Hudson JK, Hudson BG. A unique covalent bond in basement membrane is a primordial innovation for tissue evolution. Proc Natl Acad Sci U S A. 2014 Jan 7;111(1):331-6. doi: 10.1073/pnas.1318499111. Epub 2013 Dec 16. PubMed PMID: 24344311; PubMed Central PMCID: PMC3890831.
The Collaborative Education Research Collective (2023). Towards a Field for Collaborative Education Research: Developing a Framework for the Complexity of Necessary Learning. The William and Flora Hewlett Foundation.