A recent conversation with my eleven year old daughter went a little awry. When I asked her if she knew any female mathematicians, she pondered it for a moment and then admitted that she didn't know ANY mathematicians. Fair enough – we live in a tiny rural community in Eastern Maine. How about secret mathematicians – undercover ones? She thought for a few more moments and thought maybe architects or engineers might use a lot of math. Yes! We were on to something. Did she know any women that were architects or engineers? Nope. None. A knot rose in my throat. I swallowed hard.
My daughter, a math and science whiz kid, could barely identify a career pathway in mathematics let alone women doing those jobs. She reminded me of myself at her age. I loved mathematics and science and had my heart set on becoming an engineer in our local paper mill, a thriving industry in rural Maine. When I visited the mill, however, I didn't see any women. Not one. Now – of course, they were there. A few, maybe.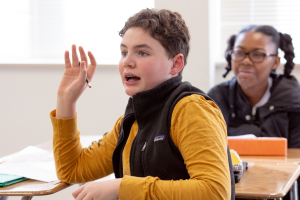 But I didn't SEE them. Because of that, one more brick in the wall of barriers making it more and more difficult for me to reach my dream career had been cemented. After visiting the mill, I changed my dream of becoming an engineer and set off on another path. In retrospect, I was scared to be the one to trailblaze. I was already trailblazing by even considering college. There is only so much trailblazing a person could do. Or, so I told myself. But, today, in 2021 – I have come full circle.
How has nearly 25 years flown past, but progress only crept forward? How many young women from small towns and rural communities across the country have been close to pursuing science and engineering careers and stepped back – unsure of where or how they might fit? How might we change the view of young women today so the careers in mathematics and the women doing them come into focus?
-Rhonda Tate, Hancock County Maine