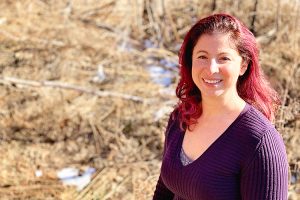 MMSA Title: STEM Education Specialist
Susannah joined MMSA in January of 2020 and primarily serves as a designer on STEMports. Trained as a lab scientist, she transitioned to education when she realized that her true enthusiasm lay in finding ways to teach and excite people about all things STEM related. She is particularly interested in innovative tools and programs that allow teachers and students to engage in authentic experiences and use their creativity as they learn about the world around them. Prior to MMSA, she worked at the University of Southern Maine as the interim director of the Ci2 Concept Research Lab, a creative projects and innovation space for students, faculty and the community. She led design thinking workshops and supported students with projects ranging from virtual reality video games, to a 3D printed prosthetic grip aid. Before moving to Maine, she was a curriculum and professional development specialist for The Education Arcade at MIT where she worked on the content, design and pilot research for The Radix Endeavor, a multiplayer online game tied to math and biology standards.
Susannah holds a PhD in Biophysics from Brandeis University and a BS in Biological and Environmental Engineering from Cornell University. She enjoys adventures with her husband and two daughters and planting too many tomatoes in the garden every summer.
Publications: 
"Rosenheck, L., Clarke-Midura, J., Gordon-Messer, S., & Klopfer, E. (2017). Tipping the Scales: Classroom Feasibility of the Radix Endeavor Game. In Serious Games and Edutainment Applications (pp. 225-258). Springer International Publishing
Rosenheck, L., Gordon-Messer, S., Clarke-Midura, J., & Klopfer, E. (2016). Design and Implementation of an MMO: Approaches to Support Inquiry Learning with Games. In D. Russell, & J. Laffey (Eds.) Handbook of Research on Gaming Trends in P-12 Education (pp. 33-54). Hershey, PA: Information Science Reference. doi:10.4018/978-1-4666-9629-7.ch002"
Phone: (207) 626-3230 x105
Email: all emails are first initial last name at mmsa.org
Projects: