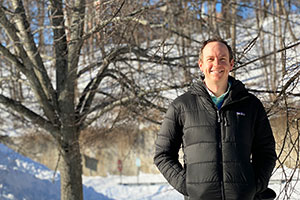 MMSA Title: STEM Education Specialist in Computer Science/ Computational Thinking
Hometown: Claremont, CA
Education: University of California Irvine – BA in Anthropology
Something you're proud of at MMSA: Having been a WeatherBlur teacher, I'm really proud of the work my students were able to accomplish in their WeatherBlur investigations. It's amazing to see a group of students come up with a completely original question and answer it by practicing authentic science.
What is your teaching/learning philosophy: I find that project based learning is incredibly effective at engaging students in the learning process. I've found that students that practice and experience data collection/analysis while getting their hands dirty are more capable at retaining and applying their learning in meaningful ways.
STEM passion area: I've spent a lot of my professional life involved in outdoor environmental education and I am particularly passionate about the natural science aspects of STEM.
What did you do before you worked at MMSA: Prior to joining MMSA, I held a number of different positions. Most recently, I taught middle school science and previously taught at a residential high school. I've also worked as an outdoor educator, land steward, law student, and food truck entrepreneur.
What do you like to do in your free time: In my spare time, I enjoy playing outside as much as possible – rock climbing, hiking and paddling with my wife and two children, and attempting to surf Maine's chilly waters.
What memory from your childhood would you like to share that exemplifies why you do the STEM education related work that you do: My high school environmental science teacher, Mr. Lawrence, took my class on a hike that I would consider now to be a pretty risky venture, even as a seasoned environmental educator. We scrambled over boulders to an abandoned mineshaft which we crept through single file, on our hands and knees, for what felt like an eternity in the claustrophobic darkness. When we emerged, we swam through cascading pools of ice cold snow melt, eventually arriving at a lookout for lunch. It was one of the first times I felt immersed in the environment and connected to something beyond the urban/suburban surroundings of my childhood. At the time, it was a fun adventure and a day away from school. However, its lasting impact has really highlighted the power of immersive experiences in education and the value of experiences for students outside the confines of a classroom.
Pronouns: he, him, his
Phone: (207) 626-3230 x138
Email: all emails are first initial last name at mmsa.org
Projects: