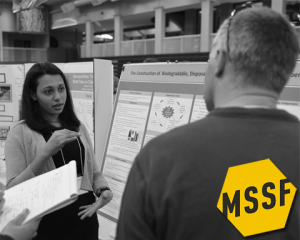 Maine State Science Fair (MSSF) is a wonderful opportunity for Maine high school students to present their original research to a statewide audience of their peers and judges including scientists, engineers, mathematicians, teachers, and other STEM professionals. MSSF is open to students from all public, private, parochial, and home schools (grades 9-12) throughout Maine.
In 2014, MMSA joined The Jackson Laboratory in sponsoring and organizing Maine State Science Fair. Through MMSA's Reach Center, this initiative aims to increase participation throughout the state, particularly in rural areas, by providing resources and support to teacher and student participants.
Connections to Guiding Principles
Students can use Maine State Science Fair to demonstrate proficiency in Guiding Principles. MMSA has aligned the MSSF scoring criteria to the Guiding Principles, showing that evidence of proficiency can be found in four out of five of the standards. This document is meant as a starting point to help teachers weave MSSF into their work with students.
Maine State Science Fair is back for its 72nd year! It's an event with a long history, but it is far from old or stale. MSSF is more than just the traditional sciences. In fact, we welcome projects in the fields of computer science, engineering, mathematics, behavioral & social sciences, and even data science. Once again, MMSA's Reach Center is teaming up with The Jackson Laboratory to host this exciting STEM event.