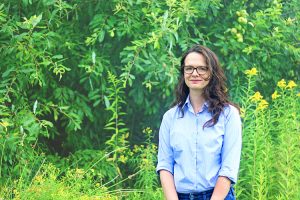 MMSA Title: Research Associate
Hometown: Damariscotta, ME
Education: BA Liberal Arts University of Southern Maine. MFA Creative Writing, University of Southern Maine
Something you're proud of at MMSA: I'm proud of the way MMSA strives to improve STEM access for rural students in Maine and beyond.
What is your teaching/learning philosophy: I believe that learning is a life-long endeavor.
What do you like most about your role at MMSA: Being on the research team allows me to constantly learn new things about our staff, partners, and programs. There's always something interesting and exciting going on.
Favorite STEM-related memory: Watching my kids explore the world around them and learn various aspects of STEM organically.
What did you do before you worked at MMSA: Before I worked at MMSA, I was a freelance writer.
What do you like to do in your free time: I spend time with my family, knit, write, and explore the Maine coast.
What memory from your childhood would you like to share that exemplifies why you do the STEM education related work that you do: I grew up along the Maine coast and spent a lot of time exploring and examining things I found along the shoreline. In a way, I have always been interested in research.
Kate's Bio: Kate joined MMSA in November 2015. She has a B.A. in Humanities from the University of Southern Maine, where she is currently pursuing a M.F.A. in creative writing. Before joining MMSA, she worked as a freelance writer and researcher for 10 years. She has a strong commitment to advancing STEM opportunities, research, and education in Maine. In her role as a research assistant, she is involved with many of MMSA's programs. Kate lives in Midcoast Maine with her husband and children, and spends her free time working on her many writing projects.
Pronouns: she, her, hers
Phone: (207) 626-3230 x107
Email: all emails are first initial last name at mmsa.org
Projects:
ACRES
Partnership for Rural Women in Math Careers (Includes)
STEMports
Publications:
Cian, H., & Kastelein, K. (2023, March). The "Learn-Practice-Share Cycle": An Effective Model of Informal Educator Professional Development. In Society for Information Technology & Teacher Education International Conference (pp. 471-475). Association for the Advancement of Computing in Education (AACE).
Gordon-Messer, S., Kastelein, K., Nickerson, B., & Byrd, S. (2022). The Station: A Model for Content Co-Design with Rural Youth. Journal of STEM Outreach, 5(1), 1-9.
Kastelein, Kate, et al. "Informal STEM Learning for Rural Teens: Focusing on First Responders." Journal of STEM Outreach 3.1 (2020): n1.
Allen, S., Kastelein, K., Mokros, J., Atkinson, J., & Byrd, S. (2020). STEM Guides: professional brokers in rural STEM ecosystems. International Journal of Science Education, Part B, 10(1), 17-35.