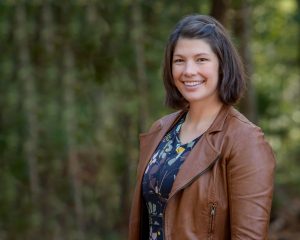 MMSA Title: STEM Education Specialist
Katahdin (Kate) Cook Whitt is a STEM Education Specialist at the Maine Mathematics and Science Alliance. Kate's work focuses on designing, implementing, and researching rigorous and equitable curriculum materials and professional learning experiences for three-dimensional science learning. In particular, she is interested in supporting elementary and middle level educators in finding ways to engage learners in making sense of local phenomena by exploring key science ideas using the science and engineering practices. Kate is currently a Principal Investigator for the National Science Foundation funded project PeBLES2: Place-Based Learning for Elementary Science at Scale. She has also served as a writer and design team member for several Next Generation Science Storylines and OpenSciEd units that have been recognized by Achieve's Peer Review Panel as Quality Examples of NGSS design.
Kate began her career as a high school life sciences teacher at the Dayton Regional STEM School in Dayton, Ohio. She then served as an Assistant Professor of Education at Thomas College in Waterville, Maine prior to joining the Maine Mathematics and Science Alliance in April 2019.
Kate holds an Ed.D. in Organizational Studies (Learning Organizations) from Wright State University, an M.S.Ed. in Secondary Science Education from Northwestern University, and a B.A. in Neuroscience and Music History/Theory from Oberlin College.
In her free time, Kate likes to spend time with her family and dogs in the outdoors, particularly if it involves being on a mountain (hiking or skiing).
Phone: (207) 626 3230 x108
Email: all emails are first initial last name at mmsa.org
Projects: 
ACRES
Partnership for Rural Women in Math Careers
PeBLES2
Publications:
Wagh, A., Cook Whitt, K., & Wilensky, U. (2017). Bridging inquiry-based science and constructionism: Exploring the alignment between students tinkering with code of computational models and goals of inquiry. Journal of Research in Science Teaching, 54(5), 614-641. doi:10.1002/tea.21379
Todd, A., Romine, W. L., & Cook Whitt, K. (2017). Development and validation of the learning progression-based assessment of molecular genetics in a high school context. Science Education, 101(1), 32-65. doi:10.1002/sce.21252