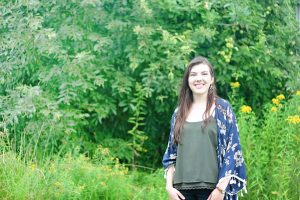 MMSA Title: Research Associate
Education: BA in Anthropology from UMO
Something you're proud of at MMSA: I'm proud of the connection to community at MMSA. I have yet to attend a project meeting where our community impact and involvement has not been a large discussion topic.
STEM passion area: I love archaeology. There's something really exciting about being able to investigate our own history. Recognizing patterns and traces of evidence of how humans have interacted with each other and the world around them throughout history teaches us a lot about how we do things today and how we can do them tomorrow. It's also the perfect example of interdisciplinary learning.
What do you like most about your role at MMSA: Research is always a learning opportunity. I get to learn about other people, ways of learning, and subject matter all the time.
What did you do before you worked at MMSA: I briefly did some archaeology for the University of Maine, but spent most of my professional years research coastal populations and resource use through a grant at the university.
What do you like to do in your free time: My free time is filled with writing, pet cuddling, and finding new places to explore around Maine.
Brittney's Bio: Brittney joined MMSA in September 2019 as a Research Associate. She graduated from the University of Maine with a B.A. in Anthropology. Prior to joining MMSA, Brittney spent two years researching Maine's coastal communities for the Sustainable Ecological Aquaculture Network and another month getting her hands dirty as a field archaeologist for the University of Maine. Her passion lies in exploring different communities and sharing her experience to increase existing education. In her free time, she enjoys traveling and writing.
Pronouns: she, her, hers
Phone: (207) 626 3230 x109
Email: all emails are first initial last name at mmsa.org
Projects:
Afterschool Coaching for Reflective Educators in STEM (ACRES)
i2i
STEMPorts