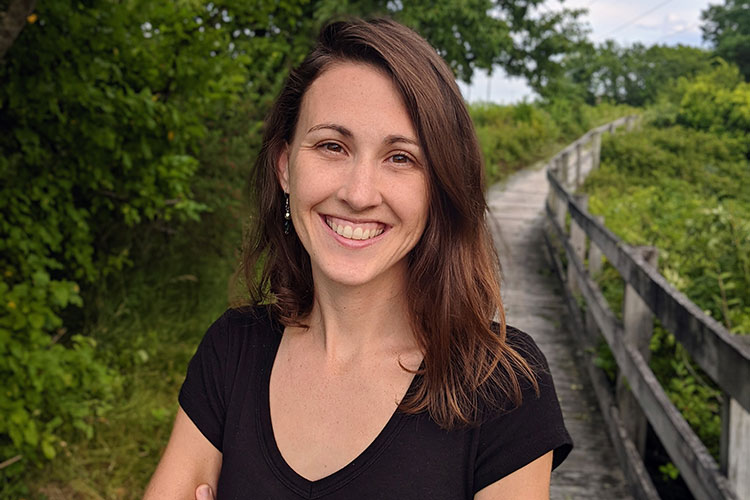 MMSA Title: STEM Education Specialist
Hometown: Portland, ME
Education: B.A. in Mathematics and Secondary Education from Merrimack College; M.S. in Educational Leadership (Mathematics Leadership) from University of Maine at Farmington
Something you're proud of at MMSA: I'm proud of how we cultivate community among staff and our partners, and how closely linked research and practice are in our everyday work. I'm also proud of how we've used instructional technologies to transform learning opportunities.
What is your teaching/learning philosophy: My teaching and learning philosophy tends to align with constructivist values where learning is grounded in exploration and creativity. Learners build their own understanding as they experience new things and reflect on their experiences.
STEM passion area: I love creatively using mathematics to inform and affect change within our communities. How can math help us understand the housing shortage? How can we use math to better respond to natural disasters?
What do you like most about your role at MMSA: I enjoy the daily opportunities to collaborate and innovate with colleagues and educators.
Favorite STEM-related memory: Building and racing Soap Box Derby cars as a kid, I remember experimenting with the position of weights in my car to increase my speed.
What did you do before you worked at MMSA: After college, I served for a year as a full-time volunteer teacher and afterschool educator through Augustinian Volunteers. I went on to teach middle school math and science in San Diego, California, before moving back to Maine where I taught high school math at Coastal Studies for Girls.
What do you like to do in your free time: I enjoy exploring the outdoors via mountain biking, hiking, backpacking, canoeing, and skiing. A good board game with friends or family is the key to my heart.
What memory from your childhood would you like to share that exemplifies why you do the STEM education related work that you do: One of my favorite memories of doing STEM was during an "outdoor survival" project I experienced in fifth grade. Of course, one of the tasks involved gathering fresh water, during which we learned how we could desalinate water using the water cycle. Looking back I think about how skilled our educator was at giving us opportunities for productive struggle and "just-in-time" learning.
Hannah's Bio: Hannah Lakin joined Maine Mathematics and Science Alliance in January 2016 as a STEM Education Specialist. With a passion for bringing depth and authenticity to learning, Hannah supports STEM educators through programs, coaching and consulting. She works closely with the ACRES Project Team to bring professional development coaching and resources in STEM to afterschool educators in rural regions. She leads the Experiential STEM Project that leverages student voice and place-based learning to enact community change; and supports middle and high school mathematics educators in teaching through meaningful, project-based experiences. Hannah is a graduate of Merrimack College, where she earned a degree in mathematics and secondary education. She also holds a Masters in Educational Leadership with a certificate in Math Leadership from the University of Maine at Farmington. She is a certified 7-12 mathematics teacher, and previously taught middle school mathematics and science and high school mathematics in California and Maine. In addition to teaching and learning, Hannah enjoys traveling, spending time with family, and getting outdoors.
Pronouns: she, her, hers
Phone: (207) 626-3230 x122
Email: all emails are first initial last name at mmsa.org
Projects:
Afterschool Coaching for Reflective Educators in STEM (ACRES)
Math Consulting
Numeracy in Nature
Partnership for Rural Women in Math Careers