Sixth graders at Mahoney Middle School in South Portland solved a design problem as they investigated engineering. Mrs. Libby Gurnee's class worked with IDEXX engineer Bailey Auspland as part of the Engineering Ambassadors project. Students teamed up to solve the Ship the Chip design problem.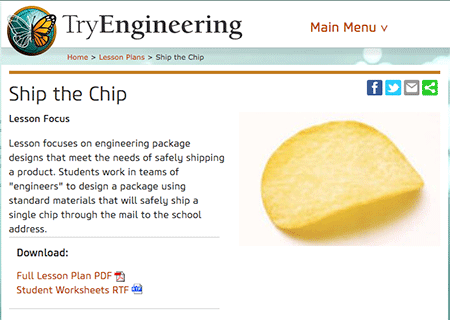 In this STEM activity, students design a light, small, and sturdy package that would survive being handled roughly during shipping.  "It was interesting to watch the kids work, and to see how incredibly excited they were to see how their chips fared!" said MMSA STEM Education Specialist Lynn Farrin.  The winning team, whose chip was undamaged, won Jolly Ranchers.
This activity is part of the ongoing Engineering Ambassadors project, which was developed by the Maine Mathematics and Science Alliance (MMSA) and the Institute of Electrical and Electronics Engineers (IEEE) and is funded by Texas Instruments. Fifth and sixth-graders in Portland area schools and afterschool programs work alongside a local engineer to solve a design problem and at the same time learn more about STEM professions. Over 35 teachers, afterschool providers, and engineers attended a half-day "match-making" training in November, including the teacher, Libby Gurnee, and the engineer, Bailey Auspland, who led this activity. Dozens more events with students will take place throughout the coming months.