The Maine Math & Science Alliance (MMSA) is a 501(c)3 nonprofit organization that finds inspiring new ways to get people excited about science, technology, engineering and math today, so that our youth can become the innovators and workforce of tomorrow. MMSA supports educators to teach science, technology, engineering and math in more meaningful ways by:
Developing professional development experiences for K-12 educators
Conducting research and evaluation of STEM learning experiences
Building relationships and networks to sustain systemic statewide improvement
MMSA offers a work culture that is very team oriented, welcomes a mix of working-from-home and from-the-office work schedules, and is rooted in the belief that high quality professional development and programming for educators can influence the future of our state. MMSA staff includes some of the best talent in STEM education, including researchers and curriculum specialists.
---
Current open positions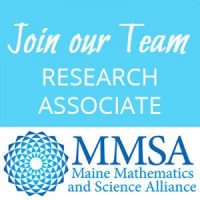 FTE: 100%
Salary Range:
$40,000 to $60,000 depending on experience
Qualifications:
BA/BS or higher
At least 3 years of experience contributing to formal or informal science education research. This experience may include research on curriculum development, teacher professional development, student learning, action research projects, etc.
Proven ability to understand goals, take initiative, and follow-through with attention to detail;
...
View Complete Job Description