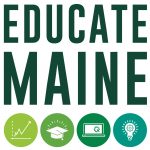 Maine Mathematics and Science Alliance and Educate Maine announce plans to expand K-12 computer science instruction through partnership with Code.org.
With most every student carrying a computer in their smartphone 24/7, they need to learn more about how the devices work, the availability of jobs in computer science right here in Maine and the role technology plays in everyday life in 2017.
Maine Mathematics and Science Alliance (MMSA) and Educate Maine are proud to announce the two organizations have been selected as a Code.org Regional Partner through a collaborative partnership, and will be the designated providers of Code.org Regional Partner in Maine. MMSA and Educate Maine will provide quality professional development to educators through local district partnerships with Code.org and act as a regional hub of the global computer science education movement.
The two organizations are committed to providing additional STEM opportunities for students and teachers across Maine. Project>Login, a program of Educate Maine, is working with K-12 schools, higher education institutions, employers, and workforce development partners to increase the number of professionals in technology careers in Maine. MMSA is in the third year of a three year National Science Foundation funded grant to bring computer science to teachers and students statewide. This new partnership will extend that effort.
"Computer science education can lead to a range of rewarding careers," Senator King said. That's why I commend Educate Maine, the Maine Mathematics and Science Alliance, and Code.org for collaborating to provide K-12 teachers from across the State of Maine with the training and professional support they need to introduce computer science to their students. This new partnership is a win-win-win for Maine's teachers, students, and economy."
About Maine Mathematics and Science Alliance (see mmsa.org)
MMSA develops and applies research and best practices in Science, Technology, Engineering, and Math (STEM) education. MMSA's special strength is rooted in building relationships among schools, organizations, individuals, and communities to advance STEM education in Maine and the nation. We support science and mathematics throughout Maine and across the country, in school and outside of school. Offerings include professional development for educators, a diverse portfolio of grant-funded projects in science, technology, engineering, and mathematics (STEM) education, and policy support.
Educate Maine is a business-led education advocacy organization whose mission is to champion college and career readiness and increased education attainment. Project>Login, a program of Educate Maine, strives to increase the number of individuals in Maine interested in technology careers through K-12 computer science initiatives, collaboration with higher education providers, and by working with Maine's employers.
---
Contact
Media Contacts:
Dr. Tom Keller, Maine Mathematics and Science Alliance tkeller@mmsa.org, (207) 626-3230
Jason Judd, Educate Maine jason@educatemaine.org, (207) 458-7824