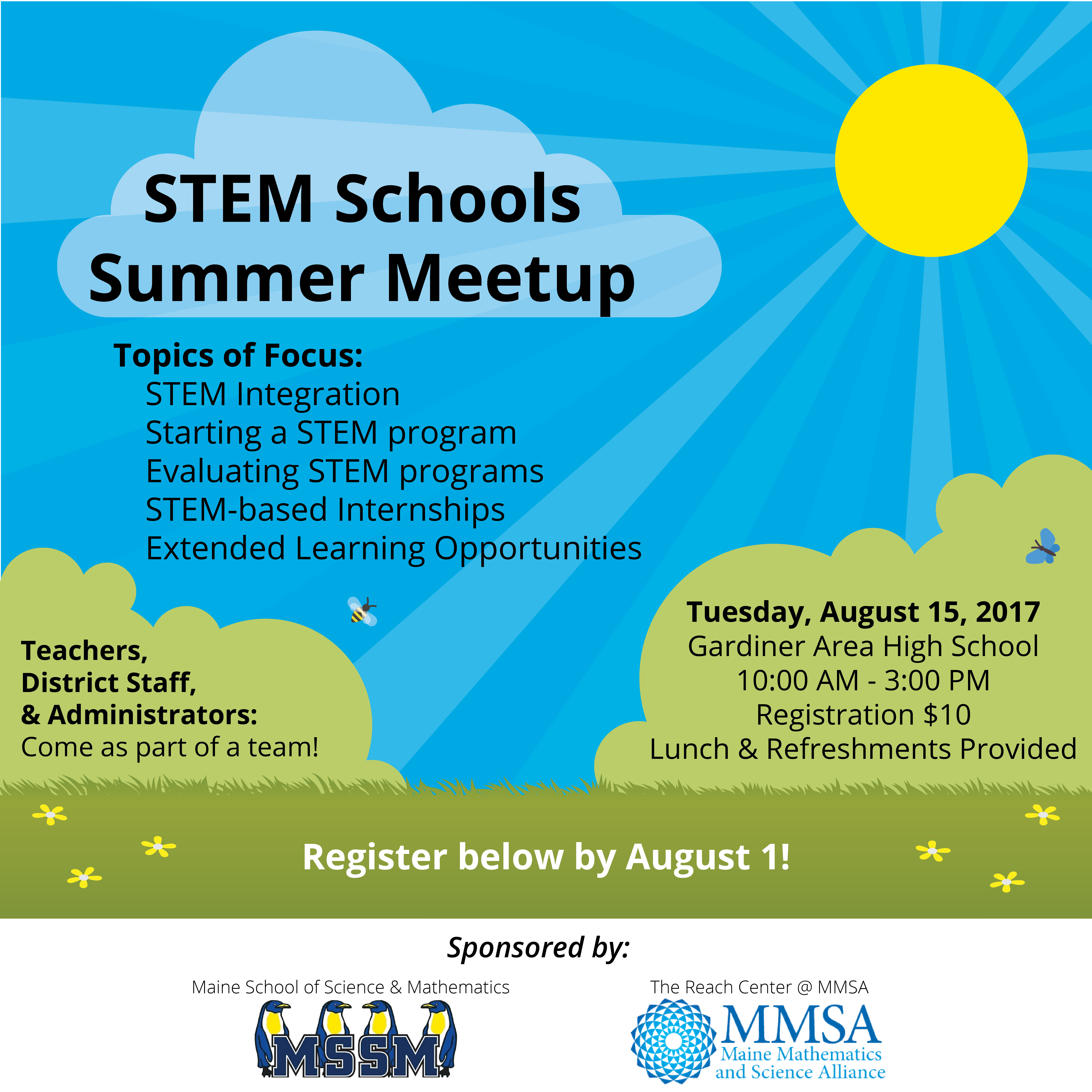 The Reach Center @ MMSA has twice convened Maine educators who are interested in starting or are part of STEM academies, schools or programs. We use the University of Chicago STEM Schools Taxonomy to categorize programs in several ways:
Depth: programs that delve deeper or more rigorously into STEM courses, such as honors or AP;
Breadth: programs offering a broader range of courses like marine biology or differential equations;
Integration: programs that integrate STEM across similar disciplines or all coursework including humanities;
Inclusive: programs in which all students participate by default, such as a neighborhood Expeditionary Learning school; and
Selective: "magnet schools" or programs where only some students participate, such as STEM academies.
We are offering a different type of convening at Gardiner Area High School on August 15, combining open space/EdCamp protocols with more directed sessions. This day, scheduled for 10am to 3pm, has two distinct pieces, and one may participate in either portion or both.
The morning session will focus on big picture issues: the goals your program is trying to accomplish, the University of Chicago taxonomy, and components of your program, with time for individual and group discussion.
The afternoon session will have two session choices and be led by teacher leaders and other experts. These will focus on extended learning opportunities like the care and feeding of internships and ways to implement and 'count' ELO's like the Maine State Science Fair. Other workshops may pop up as interest demands them.
In between, we will have a group lunch with lots of time to network.
Please register for this opportunity below. To cover the cost of lunch and refreshments, there is a $10 registration fee. Should you have areas of particular or specialized interest, please email Stefany Burrell and we will try to accommodate them. Also reach out to her if you would like additional information. We are undertaking this endeavor with our colleagues at the Maine School of Science and Mathematics.