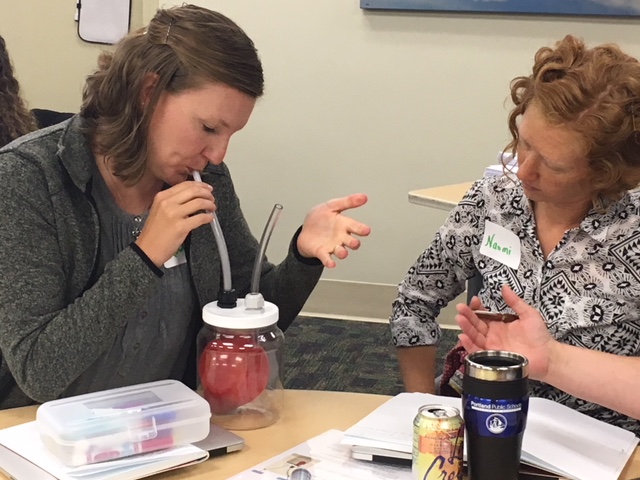 This past summer, fifty-two teachers from 14 school districts across the state of Maine participated in a deep-dive professional development experience geared at helping them examine the three-dimensional nature of teaching and learning that is exemplified in the science and engineering standards. Teams participated in a series of institutes which helped them start the fundamental shift that the Framework for K-12 Science Education embodies, moving students from "learning about" science to a place where they are engaged in actively "figuring out" science and engineering.  This project was made possible thanks to recent grants from the Maine Department of Education and Texas Instruments. Maine Mathematics and Science Alliance (MMSA) partnered with two higher education institutions, Thomas College and Maine Maritime Academy along with the Next Generation Science Exemplar (NGSX) professional learning project to provide this professional development.
Diana Allen, a life and environmental science teacher at Sanford Junior High attended the "More Figuring Out" conference this summer and came back enthusiastic and ready to implement everything she learned, saying "the experience was just wonderful."  Her biggest takeaway from the institute was "Talk Science" a framework developed by TERC for engaging kids in Academically Productive Talk.  Ms. Allen found this approach so effective in her classroom that she has presented it to others within her school, has had colleagues come to her class to see demonstrations and has had requests to go to other classrooms to model the techniques she learned.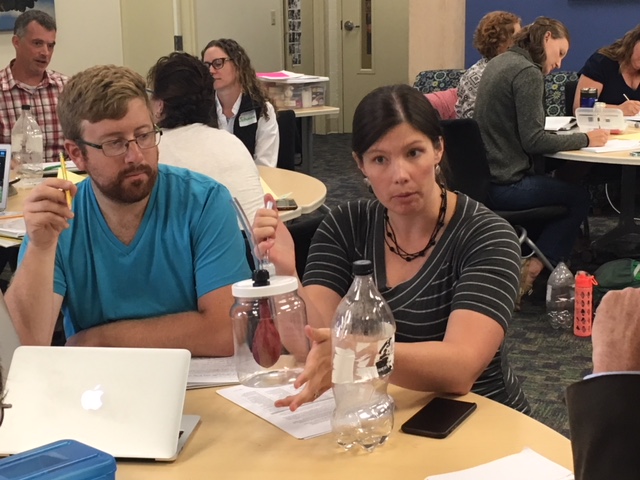 Ms. Allen noted that one of the most powerful aspects of the professional development was experiencing learning just as students would.  Instructors framed the lessons using an anchoring phenomena involving a train car imploding and then asked the attendees to model why they thought this happened.  What makes this such a powerful approach to learning is the method of experience first, followed by collaborative sense making.  One of the key features of 'science talk' is to discuss the phenomena without initially using any science terms or vocabulary.  This approach puts everyone in the class on a level playing field, promotes thinking and reasoning, as students are freed to talk and share their ideas without worrying about a lack of prior knowledge.
Asking questions like "can you talk more about that" or "can you tell me what you think Haley meant" and "can you put what they just said in your own words?" fosters talk that gets kids interested in key content and motivates them to participate.  All students are invested in listening and are active participants in guiding the discussion.  In addition, specific frameworks for respectful discussion are explicitly taught so that students learn to engage in scientific argumentation, which involves challenging one another's thinking and supporting ideas with evidence.  In the words of Ms. Allen "It's science teacher heaven…kids are [inherently] arguing, respectfully, with evidence."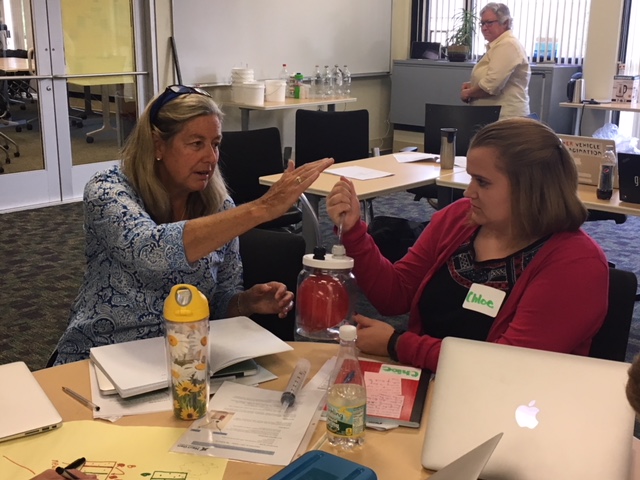 MMSA is very pleased to be able to sustain this experience by continuing to partner with NGSX on a next level of professional development. It is critical that teachers start with small steps and facilitation to move toward the vision of the Framework for K-12 Science Education. Again, with the Maine Department of Education's financial support, we expect to do this in early 2018 with a group of teachers who already have begun ways to do more 'figuring out' and less 'learning about.'