On May 13, 2018, three high school students flew to Pittsburgh to represent Maine at the Intel International Science & Engineering Fair (ISEF). They are among 1,700 teens from around the world who are sharing their original science and engineering projects with peers, judges and the public. These three students were the grand award winners at the Maine State Science Fair (MSSF) on March 24, 2018.
Noah Robinson, a junior at Bangor High School, is competing in the Behavioral & Social Sciences category at ISEF. His project looked at a phenomenon called the "priming effect" in relation to voting. He examined data from polling locations across the U.S. to see if the type of location, for example a community center or church, had an impact on the way people voted.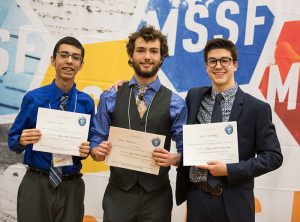 Tyler Delargy, also a junior at Bangor High School, entered his project into the Embedded Systems category at ISEF. His engineering project focused on developing a device for visually impaired people. It is a vest embedded with an infrared depth camera that transmits an "image" comprised of a series of vibrations on the person's chest. The strength and location of the vibrations tell the wearer the distance and location of objects in their path.
Ibrahim Saleh, a junior at Greely High School in Cumberland, is competing in the Environmental Engineering category at ISEF. Using a 3D printer, he created a device that allows for more effective testing of ocean acidification. The device has tiny channels for water to flow through; it allows for a faster and less expensive means of testing the pH of water.
Since their big wins at MSSF, all three have been preparing for their next big challenge. Tyler has been hard at work improving his device, making a more successful model that will help him be a more competitive force at ISEF. Ibrahim has improved his poster based on suggestions from the judges and has practiced talking about his project with many different audiences.
Their projects are all very different, but they have one thing in common: the hard work and passion that went into their research and designs. While they certainly thrive on competition and hope to win some awards, they also look forward to meeting research professionals and STEM-loving teens from around the world.
To track their progress at the ISEF competition, follow us on Facebook, Twitter (@mmsa_org), and Instagram (maine_math_science)! Maine State Science Fair is sponsored by The Reach Center at MMSA and The Jackson Laboratory. See a full list of this year's winners on our website.