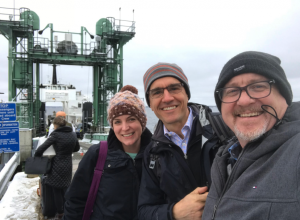 We are gearing up for the next iteration of WeatherBlur for the 2019-2020 school year! We're excited to be partnering with RTI International with funding from the National Academy of Sciences (NAS) and will be welcoming new schools from Mississippi and Alabama to the WeatherBlur family.
WeatherBlur is a citizen science project that aims to develop scientifically and environmentally literate students who take interest in helping their communities address complex environmental issues through scientific inquiry to effect positive change. Through inquiry-based projects, students will become active leaders in the scientific process, turning knowledge into action to improve environmental health.
During this project students and teachers will be supported in place-based scientific investigations in collaboration with scientists and community partners in Maine, North Carolina, Mississippi and Alabama. Teachers will be provided training and orientation to the program this summer to help them prep for the coming school year.
Participating school communities include:
Deer Isle, Maine
Islesboro, Maine
North Haven, Maine
Northport, Maine
Searsport, Maine
Long Island, Maine
Dahene, Alabama
Pascagoula, Mississippi
Gautier, Mississippi