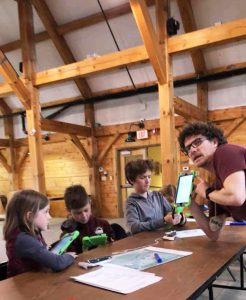 It is no secret that rural communities across the United States struggle to retain motivated and talented STEM workers—and Maine is certainly no exception. Rural labor markets are in transition, and there is a common misconception that individuals interested in innovation and cutting-edge STEM careers must relocate to urban centers or regional tech hubs to find work. Considering rural youth are only half as likely as their urban counterparts to have STEM experiences outside of school and the average American spends less than five percent of their life in classrooms, one could be forgiven for assuming that STEM has no presence, and no future, in rural communities. But, in fact, STEM is all around us, deeply embedded in the fabric of our rural communities and integral to our future workforce development. The STEMports project aims to illuminate this underappreciated thread of rural STEM innovation and opportunity by engaging youth and their communities through gaming and augmented reality.
With support from a three year grant through the National Science Foundation's Smart & Connected Communities program, STEMports is developing an interactive place-based multiplayer game for mobile devices. This game will highlight the diverse range of STEM-related opportunities that underpin Maine's growing rural sectors like sustainable agriculture, aquaculture, forestry and renewable energy. The project is grounded in a community-engaged collaborative model that brings together youth, regional organizational partners from the Maine Organic Farmers and Gardeners Association (MOFGA) and the Maine Cooperative Extension's 4H Camps and Learning Centers, social game development experts from the University of Wisconsin's Field Day Lab, as well as local STEM specialists and innovators.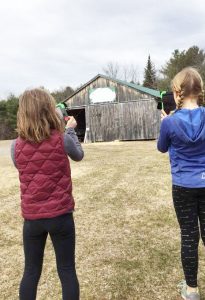 In this first year, much of STEMports work is focused on supporting three regional Youth Design Hubs in the western foothills, central, and midcoast regions of Maine. Participation is open to any youth over 13, regardless of prior gaming or STEM experience. Each Hub hosts a facilitated in-person meet-up monthly to build skills, play games, co-create STEMports missions and to advise and collaborate on game content as an integral part of the overall project team. Between face-to-face meet-ups, a custom online portal supports ongoing learning and collaboration with virtual 'Sync-up' meetings for participants, guided discussion boards and a growing library of resource materials and how-to videos.
How to get involved
Want to learn more what AR looks like in a rural setting? Have an idea for a great topic, location or inspiring STEM professional to suggest for STEMports?  Know any youth who might be interested in learning, playing or co-creating missions with one of our design hubs?  Would you like to host an 'augmented game day' in your town or organization? Want to join our email list to find out about upcoming program opportunities, being a test player or helping to develop a STEMport in your community?  If so, please send us an email at stemports@mmsa.org and we'll keep you in the loop!
Upcoming STEMports activities
Youth Design Hub Meet-ups:
Foothills Region
2:40-4:40 PM, Tuesday, April 9
@ Telstar High School Learning Commons
284 Walkers Mills Rd, Bethel
FMI: contact Tara Pocock
Central Region
3:30-5:30 PM, Thursday, April 11
@ MOFGA Common Ground Education Center
294 Crosby Brook Rd, Unity
FMI: contact Anna Libby
Coastal Region
Next Meet-up: TBD in Belfast area
FMI: contact Daniel MacPhee
Augmented Game Day at MOFGA
Thursday, April 18
9:00 AM-1:00 PM
@ MOFGA Common Ground Education Center and Maine Heritage Orchard
294 Crosby Brook Rd, Unity
Join us for a half day during April Break to play games, create scavenger hunts using basic augmented reality applications, and to help design and build an interactive tour and mapping tool for the Maine Heritage Orchard and its innovative tree stewardship program.  Aimed at youth 13+, but fun and accessible for all ages and experience levels.  Mobile devices will provided for those who need them.
Please contact Daniel MacPhee for more information or to RSVP.
Project Staff & Support
MMSA's STEMports team is Scott Byrd, Liv Detrick, Gary Lewis and Daniel MacPhee. Core project partner leads are Anna Libby at MOFGA, Tara Pocock at Bryant Pond 4H and David Gagnon for the Field Day Lab team at the University of Wisconsin Madison. The STEMports collaboration is supported by Smart & Connected Communities Grant #1831427 from the National Science Foundation.