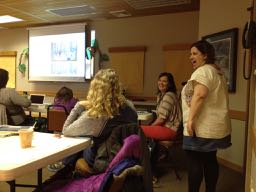 In 2016, the Institute of Museum and Library Services (IMLS) created a special research initiative named "STEMeX" (STEM Expert Facilitation of Family Learning in Libraries and Museums). This is the only project at MMSA that engages our research staff in performing evaluation of a federal program. Awards were made to four universities and museums to create family STEM learning programs in low-income and/or rural communities in Oregon, Pennsylvania, Chicago, and Virginia. These four awardees were funded to develop innovative programs for museums and libraries that mix hands-on science inquiry with personal storytelling. The programs needed to focus on a target audience of 6-10 year olds and their families.
The four organizations come together at least once a year to share their findings, assessment instruments, and creative solutions to the challenges. MMSA's role is to synthesize lessons learned across all four projects and to share them with the field of informal STEM education. We are in a unique position for this project as an external evaluator of the entire program, not just a single project within the program.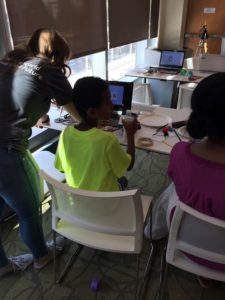 Although, by design, the programs are similar, there are interesting differences in the choices they made as they designed locally relevant STEM activities, and recruited diverse families and community STEM experts to participate. The community STEM experts included people such as engineering graduate students, local naturalists, or retired scientists, and they facilitated the family activities as well as connected them to their own life experiences through storytelling. One common finding was that these STEM experts needed significant support and training in order to work successfully with children and families in an informal setting, in such a way that parents worked and talked with their children rather than taking over or just sitting back. Typically, educational activities in the informal sector are designed with a focus on children only, so the staff at the participating libraries and museums also learned new ways of contributing to family learning.
MMSA is coding, analyzing, and synthesizing the data we gleaned from each project, and exploring ways to represent patterns and lessons learned across projects. Our particular focus is on the different choices that the sites made, and what these show about learning and design at all levels: for the families, experts, and organizations. For example, the duration of the STEM activities was very different depending on the location – some sites had families attending just a single 90-minute activity, while others had families commit to extended projects that ran a full Saturday for six weeks and culminated in the families writing a book for their local library. All projects showed evidence of families learning not just STEM content but broadening their sense of what it means to be a scientist.
A key outcome of this work is that we will create a document that helps informal educators around the country – both library and museum staff – to learn about effective approaches to involving community experts in STEM family learning programs. In addition, this will highlight the choice points and differences in solutions, with decision trees to show the decisions that were made, and their justifications and outcomes.