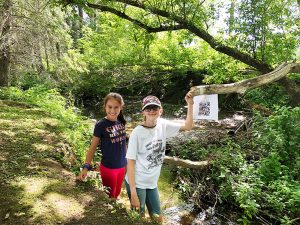 AR Girls registration is open for the summer 2020 workshop program which will run in three art centers across Maine: Fiddlehead Art and Science Center in Gray, Wintergreen Art Center in Presque Isle and Waterfall Arts in Belfast.
The AR Girls project is the first of its kind in the nation aimed at increasing the participation of girls in STEM careers by empowering them to design Augmented Reality (AR) to communicate topics that are important to them and their community.  AR Girls is a collaboration of MMSA, University of Maryland Center for Environmental Science (UMCES), Oregon State University, University of Wisconsin: Madison and Harvard Graduate School of Education.  It is funded by the National Science Foundation's Innovative Technology Experiences for Students and Teachers (ITEST) program.
Augmented Reality is a contemporary mode of interactive storytelling in which a computer or mobile device is employed to blend real-life and digital content.
In the AR Girls Workshop, participants learn to use an AR app to overlay graphics, videos, audio and even their own art onto the real world.
After a showcase last October one participant, Ava said "We used a program that helps you code a game and I discovered the fact that I'm actually really good at  programming." Trena Soucy is a scientist and biology instructor at the Northern Maine Community College and was one of the community partners who mentored the girls. "One of my responsibilities was to bring some real-life information to the art that the girls were creating and give their games an educational component for them to learn about issues in the community," Soucy said.
"These girls are all artists, they have amazing artistic ability, so to see them learn a new digital platform as a delivery method was really cool," Soucy said.
The AR Girls Workshop is two fun-filled weeks of design, creation and games ending with a Saturday community showcase. AR Girls is supported by a National Science Foundation grant and is FREE to all participating girls. FMI or to register visit https://mmsa.org/argirls.