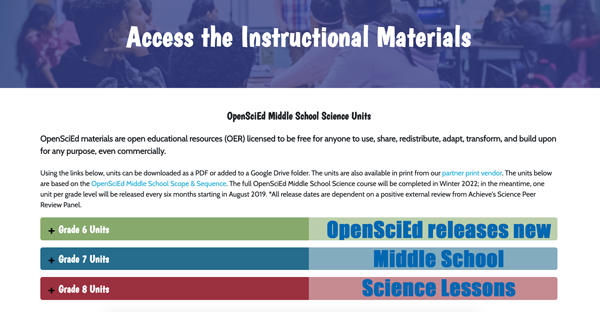 Looking for high-quality, open-source, NGSS-designed middle school science units?  OpenSciEd will be releasing the second round of open-source, NGSS-designed middle school science units in February!  OpenSciEd (www.openscied.org) was launched to ensure that any science teacher, anywhere can access and download freely available, high quality, locally adaptable full-course science instructional materials.  Each OpenSciEd unit undergoes an 18-month development process that includes external reviews, a robust field test, and revision.  Units are only released after they are evaluated by Achieve's EQuIP Peer Review Panel and have received a quality rating.  While OpenSciEd has started at the middle school level, the goal is to create an entire science curriculum from elementary to high school.
The first three units were released in August, 2019 and can be accessed at www.openscied.org.  The units include: 1) Thermal Energy (How can containers keep stuff from warming up or cooling down?), 2) Metabolic Reactions (How do things inside our bodies work together to make us feel the way we do?), and 3) Sound Waves (How can a sound make something move?).  In February, the next set of three units will be released.  This round includes: 1) Weather, Climate, & Water Cycling* (Why does a lot of hail, rain, or snow fall at some times and not others?), 2) Matter Cycling & Photosynthesis (Where does food come from, and where does it go next?), and 3) Forces at a Distance (How can a magnet move another object without touching it?).
Kate Cook (STEM Education Specialist at Maine Mathematics and Science Alliance and President-Elect for the Maine Science Teachers Association) has been a writer on the OpenSciEd writing teams.  If you or your district would like to learn more about OpenSciEd and the publicly available units, please reach out to MMSA for a variety of professional learning opportunities.
*scheduled for March 19, 2020