We're providing easy-to-use resources for parents to engage their children in STEM (science, technology, engineering, and math). Check back weekly or follow us on Facebook to get updates!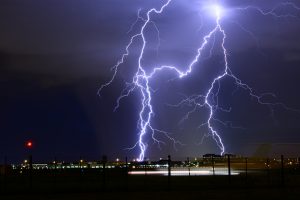 Lightning Safety Awareness Week
June 20th is the official first day of Summer which means hotter weather, bright sunshine and… thunderstorms! Prep for the summer months ahead by learning the importance of lightning safety, so you can watch and enjoy the power of Mother Nature, safely.
Tech Time 🌐
Thunderstorms can be pretty scary, but learning a bit more about how they form and why and how you can be safe might help with thunderstorm anxiety. Our friends at the Mount Washington Observatory have put together an excellent video on 'Lightning and Safety' in their Home of the World's Worst Weather series. Thunderstorms are exciting to watch but they can be dangerous; please be safe!
Get Outside… but not during a thunderstorm! 🌤
How to Make a Weather Journal: Keeping an eye on the weather is very important, especially if you're playing outside during the summer. Practice keeping an eye on the sky this summer by starting your very own weather journal. What is the air temperature? Is it sunny outside? Are there clouds in the sky? Has the wind changed suddenly? Thunderstorms typically form in the afternoon in the summertime, forming huge towering clouds in the sky. When you see those types of clouds forming, it's probably a good idea to get indoors.
Rainy (or Stormy) Day ⛈
Is it rainy outside, or even thunderstorming? Take some time to learn more about lightning safety by meeting Owlie Skywarn from the National Weather Service! He has his own coloring and activity book and you'll learn a lot about how to stay safe during a thunderstorm.