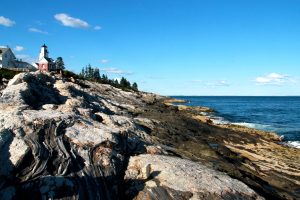 Science class has looked like a lot of different things over the years. We all have memories of dissecting frogs, memorizing the planets, and building volcanoes. Maybe we still cringe at our first attempt at the science fair or, maybe we still have our ribbons displayed. Slowly, we have shifted away from memorizing the steps of processes and growing crystals from a kit and toward a deeper understanding of what drives these processes through studying "phenomena." A phenomenon can be windows shaking in response to loud music, rocks collecting in a distinct pattern at the bottom of a hill, or rainbows appearing around the sun. By capitalizing on the relentless curiosity of students, today's teachers have the opportunity to bring science to life. While science education, like the process of science itself, has shifted with new understandings, one thing that has remained constant is the lack of time carved out for science and the lack of engaging resources that open students' eyes to the science that is all around them, especially in the K-5 world.

As educators wrestle with difficult decisions about what and how to teach science, they often face the dilemma of deciding between developing locally-relevant, place-based learning experiences, or utilizing instructional materials designed for widespread use that have been carefully tested and designed to meet the expectations of the Next Generation Science Standards (NGSS). Currently, many instructional materials designed for widespread use do not connect to local phenomena, while units that do incorporate local phenomena are often developed from the ground up by community members, requiring extensive time and resources.  Learning about erosion by studying the Grand Canyon is effective – unless you've never seen a canyon. Creating an engaging, aligned, unit about local erosion is amazing – but time-consuming and daunting for many teachers. Our newest award, Place-Based Learning for Elementary Science at Scale (PeBLES2) made through the DRK-12 program at the National Science Foundation (NSF) is designed to address this dilemma. The PeBLES2 project, led by PI Kate Cook, investigates how to design instructional resources and supporting professional learning that value rigor and standardization while at the same time creating experiences that help students understand their worlds by connecting to local phenomena, communities, and cultures. Erosion, for example, might be taught by studying the Grand Canyon – if you lived in Arizona. Here in Maine, we might tackle erosion on the banks of the Penobscot or along the local highway.
To support equitable access to place-based science learning opportunities, Maine Mathematics and Science Alliance in collaboration with BSCS Science Learning, will develop and test a model to support 3rd-5th grade teachers in incorporating locally or culturally relevant place-based phenomena into rigorously tested curricular units that meet the expectations of the NGSS. The project team will develop two units that could be used in any region across the country with built-in opportunities and embedded supports for teachers to purposefully adapt curriculum to include local phenomena. In-person and virtual professional learning experiences will further help teachers who have limited district support for science to incorporate place-based approaches. Participating pilot teachers will range from rural and urban settings in California, Colorado, and Maine to ensure the end products of this project are relevant, scalable, appropriate for a wide range of students across the country.
We are thrilled to be engaging in this important and timely work to increase equitable access to high quality science instruction in elementary school and situate learning within local contexts.  Now, more than ever, science learning needs to be grounded within community.  By supporting teachers in the process of bringing science to life through the phenomena that exist in their students' backyards, we hope we hope to uncover the "just right" balance between providing high quality resources and materials and supporting teachers in "working their magic" with the students and communities that they know best.
FMI about PeBLES2 contact Kate Cook at kcook@mmsa.org.