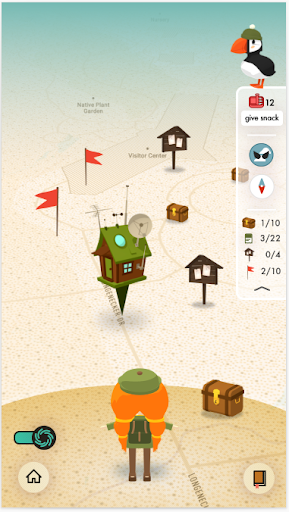 STEMports is entering its third year this October and the team is hard at work developing an augmented reality game app for Maine youth! Wait, what was that—what is STEMports? STEMports is a three-year National Science Foundation Smart and Connected Communities project that partners with rural communities and schools to develop an innovative STEM learning game for workforce development in Maine. The game's activities take players on localized augmented reality (AR) quests to both engage in STEM learning challenges and discover emerging STEM careers in their community. During the process of highlighting the fields of sustainable agriculture and aquaculture, forest products, and renewable energy, we've learned so much about how they play out in Maine. 
In the past several months, our primary focus was on the development of the game application. In collaboration with our design partner, Field Day Labs (FDL) at the University of Wisconsin, the game moved from sketches and wireframe prototypes through beta testing and to a nearly finished product. Co-design teams, including MMSA staff, youth co-designers, and representatives from organizational partners, such as MOFGA and Maine 4H, have been helping to author content for playtesting and providing feedback during our development cycles.  We worked with FDL to create a game editor that will allow players to easily move from content consumer to content creator, adding an additional level of learning and engagement. Youth are involved in designing the quests which help them learn about game design and augmented reality technologies while also learning about local workforce opportunities in STEM fields. 
This fall the project team will be working with youth design teams from Casco Bay High School in Portland, Telstar Freshman Academy in Bethel, and Lincoln Academy in Newcastle. 
Students will develop quests for our organizational partners creating a designer-client relationship where students will have to learn content and author game content that serves organizational and local needs.  Most of this work will be virtual with remote playtesting available by employing the warp-function built into the game—players can "warp" to an area in Maine to play quests without having to be at the location itself. This also allows us to make some virtual field trips for our partners.
If you'd like to learn more about the project and potentially how to be involved email sbyrd@mmsa.org or go to www.stemports.org. And, be sure to look for the STEMports game in Apple's app store coming out this winter 2021!