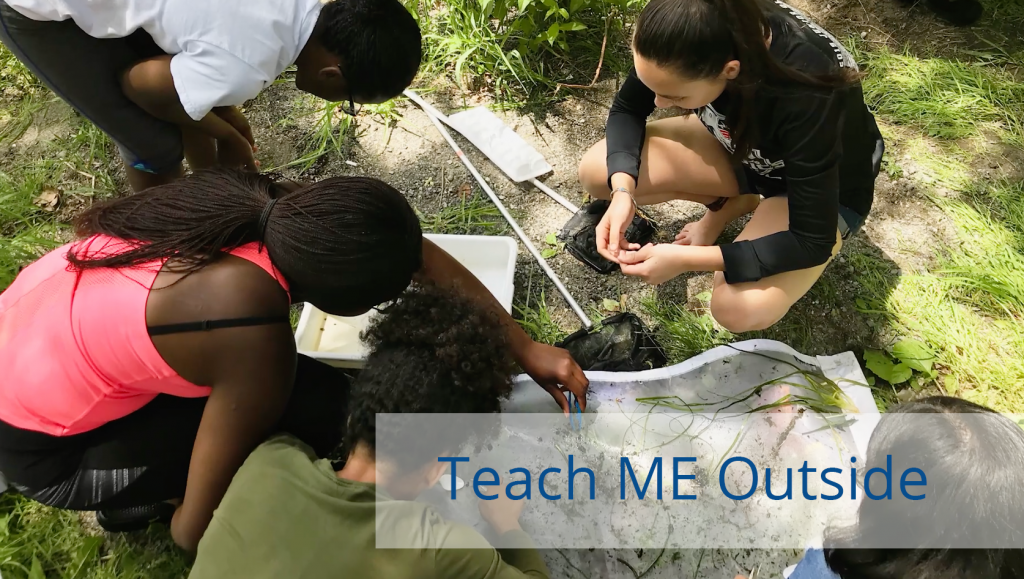 Teach ME Outside is excited to announce the launch of several new initiatives and tools to support schools' and organizations' ability to implement community-based environmental learning. A team of 15 in-school and out-of-school educators, administrators, and leaders in environmental learning across Maine began meeting in June to compile a list of high-quality community-based environmental learning professional learning experiences available to Maine educators, discuss gaps in professional learning available in our state, and develop open-source professional learning modules. This Professional Learning Advisory Group has chosen to focus their efforts on developing professional learning materials to support two themes: Outdoor Learning 101 and Integrating Environmental Learning Across the Curriculum. These modules are being developed, tested, and refined, and will be publicly available in 2021. 
Teach ME Outside is also excited to announce the release of a new video highlighting the impact and importance of environmental and outdoor learning in Maine, produced by MMSA Digital Media Assistant Sierra Toomey. The video demonstrates why this work is important to communities, funders, school administrators, and others. We hope this video will be shared widely and used as a tool to advocate for environmental learning across all sectors.
Teach ME Outside supports and works in partnership with Maine communities to ensure that all Maine youth have access to powerful, hands-on environmental learning opportunities. The initiative focuses on reducing barriers and sharing creative community-designed solutions to increase schools' and organizations' ability to implement community-based environmental learning. Teach ME Outside builds on the results of the 2019 Census of Community-Based Environmental Learning in Maine and the collaborative work of many different organizations and individuals over the past decade. Today it is led by a partnership between the Maine Mathematics and Science Alliance, Maine Environmental Education Association, and Nature Based Education Consortium. This project is made possible with support from the Pisces Foundation and the Elmina B. Sewall Foundation.