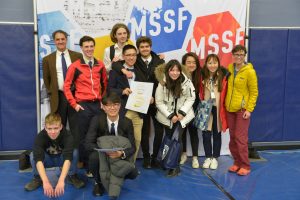 Maine Mathematics and Science Alliance is seeking a Student Outreach Intern to create a sense of community among high school students who are participating in the Maine State Science Fair. This position offers the Intern a chance to develop skills in social media, facilitating virtual gatherings of high school students, and building an engaged membership base.
Applicants should be comfortable with working in a remote environment, as this position is fully virtual. The ideal applicant has strong communication skills and experience using a variety of social media platforms. Preference will be given to qualified applicants who participated in a Science Fair while in high school. Applicants must have a high school diploma or equivalent.
This position will begin January 19 and will run through May 14. Interns can expect to work between 5 and 10 hours per week. This Internship offers a stipend of $1,500 upon completion of milestones.
To apply, please provide a cover letter, resume, and contact information for three references using the form below by December 20, 2020.
https://airtable.com/shr5uUKJjYWBpLvLg
---