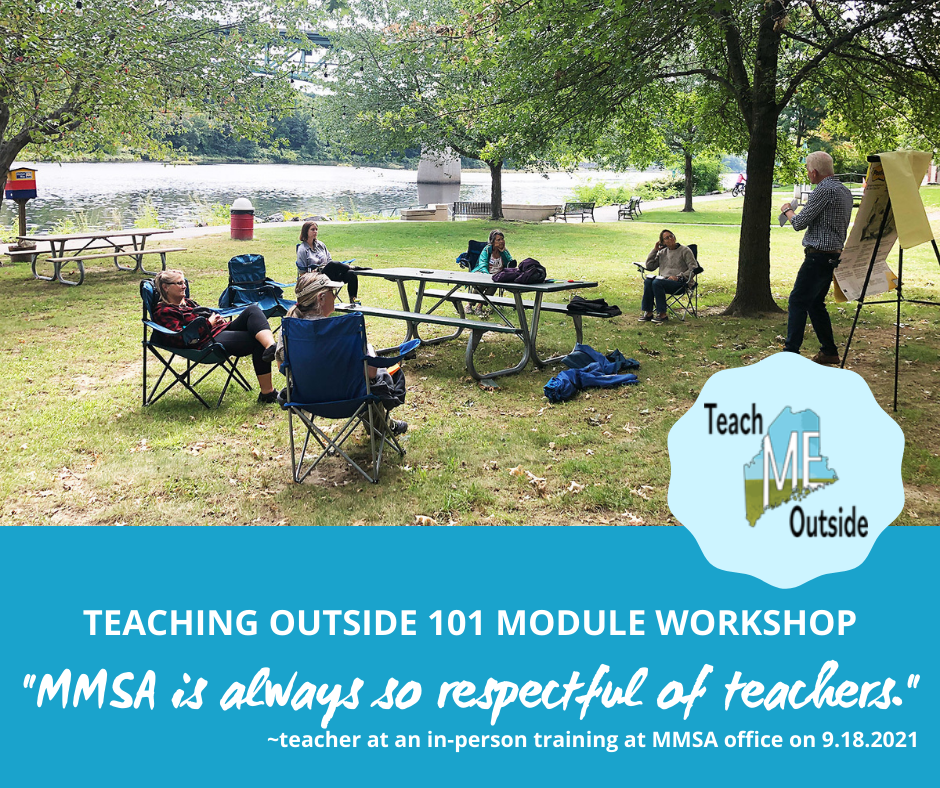 During the first half of 2021, Teach Me Outside completed a draft of the Teaching Outside 101 module. This professional learning guide is designed to support educators in facilitating conversations about creating and supporting a culture of bringing students outside, provide a set of practical tools for bringing students outside, and offer resources and guidance on how to explore this type of education further. The module was co-designed with leaders in the environmental learning field who participated in a Professional Learning Advisory Group, providing revisions, edits, and additions to the module. Our advisors have provided many helpful suggestions and feedback and several want to facilitate these sessions with other educators in their schools and communities! This September, we launched the Teaching Outside in Maine 101 module with teachers and community partners from across Maine at a series of training sessions. These educators took time out of their busy schedules to share some quality time in Augusta at MMSA's new office to explore the Teach ME Outside module aimed at accessible environmental learning and effective approaches to taking students outside more often. Participants were delighted to have a safe, open space where they could come together to reflect on what they already do well and learn from one another new ways of supporting their colleagues and students. Everyone told stories about what works and what doesn't, thought about new ways to solve common challenges, and committed themselves to moving forward (and outside) using evidence-supported resources.
"MMSA is always so respectful of teachers. … I always feel so respected as a professional, whether it's an online ACRES [program] or even just the little snacks and lunch you provide, thank you! And your space is so beautiful and clean, and you're so thoughtful about safety - a lot of the anxiety I might feel at school, I didn't feel here."
Teach ME Outside is a collaborative project that supports and works in partnership with Maine communities to ensure that all Maine youth have access to powerful, hands-on environmental learning opportunities. It is led today by a partnership between the Maine Mathematics and Science Alliance, Maine Environmental Education Association, and Nature Based Education Consortium. This project is made possible with support from the Pisces Foundation, the Elmina B. Sewall Foundation, and the Onion Foundation.