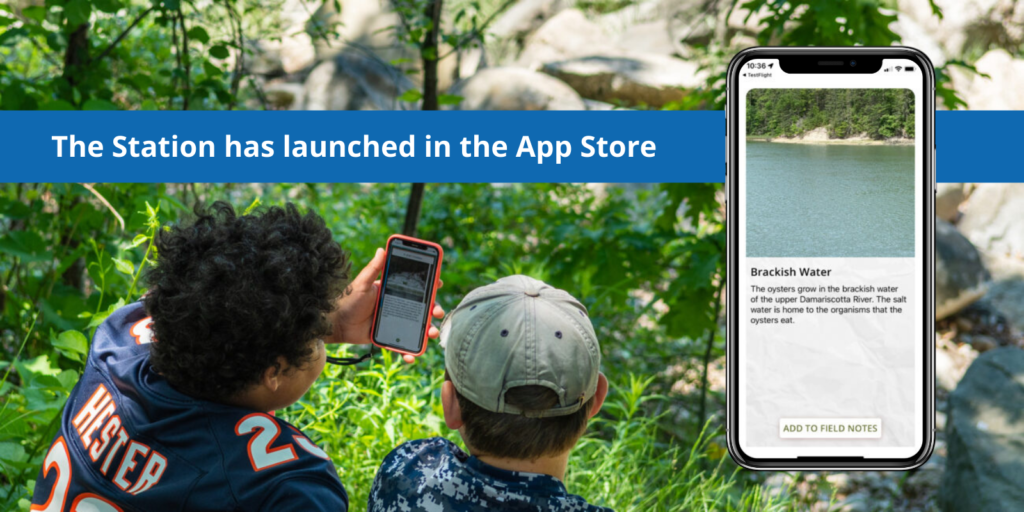 The STEMports team is thrilled to announce that their app is now available to the public through the Apple App Store. The Station is an augmented-reality app (for iOS) for community-based STEM learning and workforce development. Created through an NSF grant, and partnership with Field Day Lab in Madison, WI, players can take on location-based quests where they can explore, observe, and discover their community through a whole new lens. In addition to gameplay, The Station includes a simple text-based editor (no coding required!) which allows users to easily create their own content at any location they choose.
The Station has been in development for several years as the STEMports team worked with artists, writers, designers, and developers at Field Day Lab to take the app from simple concept art and wireframe outlines to a fully formed product ready for public use. Throughout the whole process, the team has worked closely with our partners at MOFGA, Maine 4H, and the Maine Mineral and Gem Museum to co-design game content. These partners, along with the students who are involved with them, have provided hundreds of hours of playtesting — and we are so thankful for their contributions. Some highlights of quests created for the app include:
The history of the Whaleback Shell Midden in Damariscotta created by 8th graders at Great Salt Bay Community School.
Identifying apples in the MOFGA orchard that was played as one of the family activities at Great Maine Apple Day.
Learning about the unique features of the Bryant Pond 4H camp created by 9th graders at Telstar Academy in Bethel, ME, as a way to introduce incoming students to their new campus.
A tour of the outside space at the Maine Mineral and Gem Museum co-designed with a curator in order to expand the visitor experience beyond the inside space of the museum.
Now that The Station can now be easily downloaded on any iOS device, the team is excited to see how the program can expand to reach new audiences. To learn more, visit https://mmsa.org/stemports/ or contact the project manager, Susannah Gordon-Messer, sgordonmesser@mmsa.org.