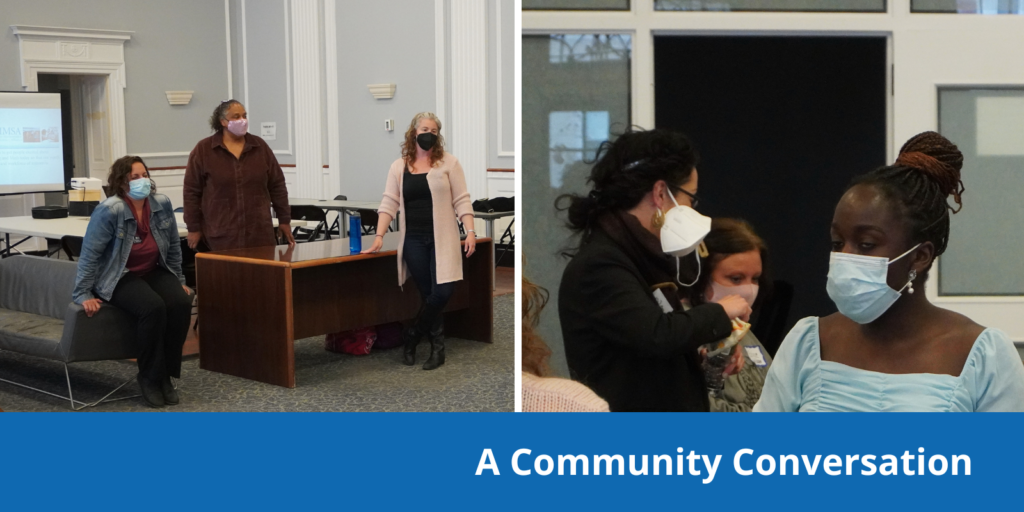 For the past year, MMSA has been working with funding from UNUM that allowed us to focus on understanding the assets and needs of the BIOPOC and New Mainer communities in the Greater Portland area. To do this, MMSA partnered with Cross Cultural Community Services (CCCS), a Portland-based group that helps organizations address issues of diversity, equity and inclusion and become more knowledgeable about Maine's growing refugee, immigrant and BIPOC communities. Through conversations with CCCS staff, they impressed upon us the importance of creating venues where we could simply listen to the needs and interests of the communities we hope to serve.
On May 20th, we hosted the conversation at the brand new Equality Community Center in Downtown Portland. Our small but talkative group included MMSA staff, student and teacher partners currently involved in MMSA programming, CCCS staff, representatives from local BIPOC-serving organizations, and BIPOC parents from the Portland school district. From this conversation, the group helped identify four needs where MMSA could play a role:
Telling the stories of BIPOC emerging STEM youth leaders.
Telling the stories of New Mainers that participated in the STEM workforce in their home countries.
Highlighting the achievements of BIPOC students in STEM so that they can be role models for other students.
Providing experiences and programming for new Mainer students that feels meaningful and is community driven.
We have just applied for another round of funding that will allow us to reach out to additional organizations with the goal of creating a needs and assets map that can help direct our future work. For more information about this work, please contact Susannah Gordon-Messer, sgordonmesser@mmsa.org.