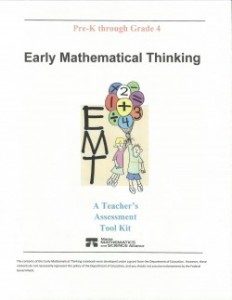 The Early Mathematical Thinking Enhancement Project (EMTEP), a continuation of the Maine Mathematics and Science Alliance (MMSA)'s long-standing Early Mathematical Thinking (EMT) project, created a set of diagnostic assessment tools intended as a formative assessment strategy to uncover students current level of mathematical thinking and guide instruction in grades K-4. Funded by the Maine Department of Education, this three-year project enabled us to train and support over 200 Maine teachers in ten districts and three island schools.
In addition to the assessment tools, EMTEP provided participating schools with a series of six professional development workshops focusing on understanding research-based formative assessment and enhancing pedagogical and mathematical content knowledge to meet the needs of identified struggling students. Teachers in partner schools learned to implement the EMT screening and to assess student understanding of counting, place value, addition/subtraction, multiplication/division, fractions, and measurement. The EMT screening tools are derived from Australia's Early Numeracy Research Project (ENRP).
The University of Maine Augusta is an EMTEP partner and Dr. Norma Bisulca from UMA will provide content expertise for the project.
The EMT diagnostic tools were derived from Australia's Early Numeracy Research Project. Information about this project and additional resources can be found at Early Numeracy Research Project.