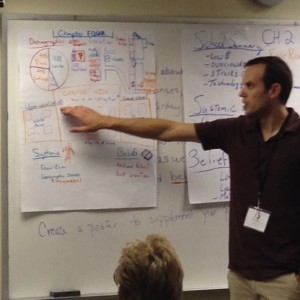 To improve access to computer science instruction by Maine high school students, MMSA developed a proposal to bring the Exploring Computer Science (ECS) curriculum to Maine.  The resulting three-year project, supported by a National Science Foundation grant, began in January 2015 and supports teachers of grades 8-12 in integrating ECS into their classrooms. This is the only project in the state to provide significant, statewide professional development (PD) for middle and high school teachers in computer science. The PD consists of a weeklong summer institute and four Saturday workshops throughout the school year.
In addition to PD, we are building a community and support structures for computer science by establishing a Maine chapter of the Computer Science Teachers Association (CSTA) and developing a CS methods course at the University of Maine at Augusta (UMA).
The research component of this grant focuses on the development and impact on students of five Maine workplace-based lessons from CS-rich organizations (Axiom Technologies, Mt. Desert Island Biological Laboratory, Jackson Laboratory, LL Bean and Kepware Technologies). This project will greatly expand Maine's capacity in computer science education.
Led by MMSA, in partnership with RSU 26 (Orono) and UMA, this is an exciting project that meets a known and growing need for excellent CS teacher professional development and in-school educational programs. Joanne Harriman, Superintendent of Schools at RSU 26 (Orono) and Co-Principal Investigator, established a model site and leads teacher recruitment. Dr. Joseph Szakas, President of UMA, is responsible for development and implementation of a computer science methods course. Dr. Dusty Fisher, IEEE USA's leader for K-12 education, works intensively with the five Maine industry representatives on the workforce examples.
Building on the highly successful Exploring Computer Science curriculum and its accompanying professional development program, the proposed project goals are to:
Help teachers implement the ECS course in their own settings, adapting it to meet the needs of a diverse and rural group of students by including Try Computing activities that exemplify computational ideas and use examples from local workplaces.
Build, grow, and sustain a community of high school CS teachers in Maine, using innovative methods to connect highly dispersed teachers in rural areas.
Design, implement, and sustain the first computer science methods course for prospective and in- service teachers in a rural state.
The first summer institute was held at the University of Maine Augusta in 2015. This first cohort of teachers continued to meet throughout the 2015-2016 school year while implementing the ECS curriculum in their classrooms with great success. One set of teachers has taken their students on a field trip to Google in Boston.
The second cohort, working with two returning teachers, will begin with the 2016 summer institute June 27 to July 1, 2016, at UMA's Bangor campus, and implement ECS in their classrooms during the 2016-2017 school year.
This work is supported by NSF grant #1440464.
See Recent MMSA News about This Project:
Maine Educators Keep Exploring Computer Science
NSF Awards Grant to MMSA to Support Computer Science Instruction in Maine High Schools
Project Partners
Project Staff