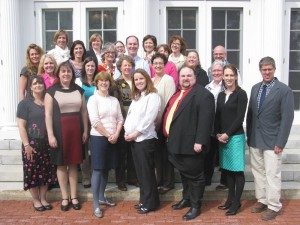 The Governor's Academy experience is designed to prepare STEM teacher leaders to be ambassadors for the mathematics, engineering, and science teaching profession; mentors for the support of new teachers; facilitators of collegial learning; partners and advisers to various district, regional, and statewide initiatives; and contributors to STEM partnerships in Maine.
MMSA has led five cohorts of this academy over the last decade. The purpose of this fourth cohort is to build and enhance content-focused knowledge, skills, and strategies in order to prepare exemplary teachers to step into roles that require new understandings of STEM education and STEM policy issues. The Maine Governor's Academy for STEM Education Leadership is based on a successful model implemented by the National Academy for Science and Mathematics Education Leadership, which has built national leadership for science and mathematics reform.
The Governor's Academy is different from other leadership initiatives: Designed specifically for K-12 mathematics, engineering, and science educators, it takes a rigorous, systemic approach to building knowledge and skills in all aspects of standards-based teaching and learning in the STEM disciplines. The Academy, one of MMSA's signature projects, was initially designed by Page Keeley (formerly of MMSA) and then led by Joyce Tugel.