MMSA is proud to have collaborated with the Maine Environmental Education Association and the Nature Based Education Consortium to help create this new video for the Teach ME Outside initiative highlighting community-based environmental learning in Maine.
"Out of the Classroom, Out in Community, Outside the Box"
The goal of Teach ME Outside is to support and work in partnership with Maine communities to ensure that all Maine youth have access to powerful, hands-on environmental learning opportunities. Building on the results of the 2019 Census of Community-Based Environmental Learning, this initiative will focus on reducing barriers and sharing creative community-designed solutions to increase schools' and organizations' ability to implement community-based environmental learning (CBEL). This collaborative effort will also increase opportunities for professional learning, data sharing, systemic reform, networking, and partnership support.
Specific initiatives include: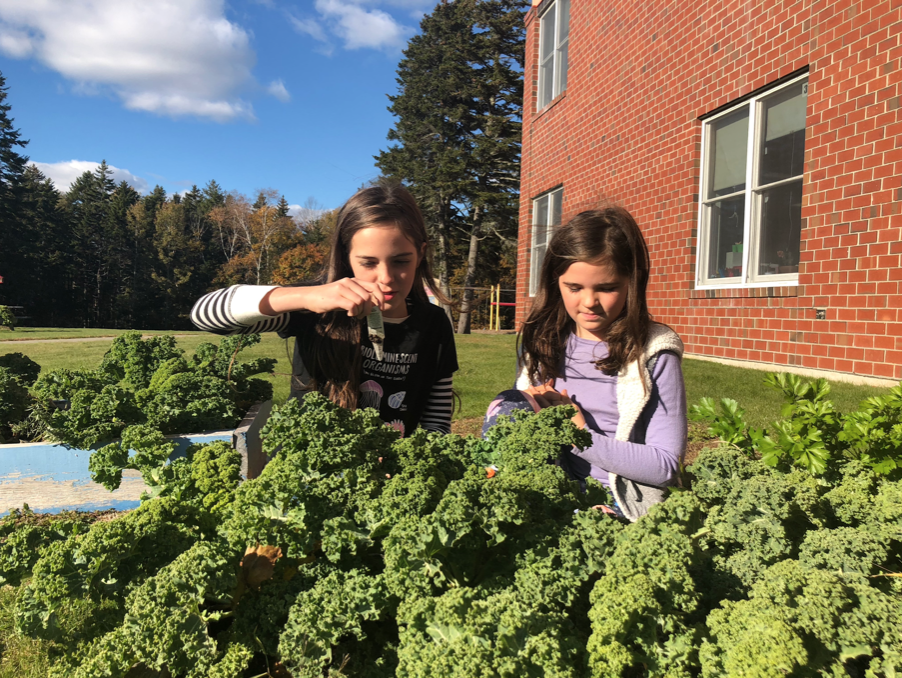 Convening listening sessions across Maine to hear feedback directly from educators about how to address barriers and support CBEL in their diverse settings in both the short and long-term
Engaging in outreach to expand and deepen the network of educators and organizations connecting youth to their environment and communities
Visualizing Census data and networks across Maine using digital tools that connect educators with community partners and resources to advance CBEL
Developing open-source professional learning opportunities for educators
Developing an Evaluation Collaborative to support evaluation of CBEL projects and track field-wide impact over time
Building long term systems-level support for CBEL in Maine
Get Involved!
Help us build an outdoor and environmental learning online directory for Maine!
Teach ME Outside has started work on an online directory of Maine Environmental Education and Outdoor Learning providers and organizations that will exist as a dynamic and searchable tool. Becoming a listing on this directory is a totally free opportunity and helps to build awareness of who you are and the great work you are doing in the state! This tool will be a resource for teachers and the public to search for community partners to help support their work—make sure your organization is included!
Why This Work Matters 
When educators and communities design and implement community-based environmental learning programs there are broad and lasting benefits for youth. In addition to achieving the ultimate goal of a more environmentally literate, engaged population, CBEL has been shown to have the following positive impacts: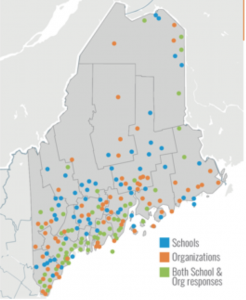 Community-Based Environmental Learning in Maine
A recent landscape analysis recognizes that Maine provides a wealth of CBEL initiatives for youth, both in and outside of school. But, many of these initiatives work in isolation from other similar programs, lack resources or training, and do not measure the impact of the educational experiences they offer. In addition, there are areas of the state that are underrepresented in CBEL.
Findings from the Census include:
Educators highlighted extended programming as the most impactful to their students, yet short-term experiences are most commonly used across schools and organizations
Schools with high Free and Reduced Lunch eligibility report more significant challenges to implementing CBEL
Partnerships are directly correlated to best-practice aligned programming
Educators had clear needs for professional development support and structures to support continued professional growth
Teach ME Outside builds on the collaborative work of many different organizations and individuals over the past decade and is led today by a partnership between the Maine Mathematics and Science Alliance, Maine Environmental Education Association, and Nature Based Education Consortium. This project is made possible with support from the Pisces Foundation and the Elmina B. Sewall Foundation.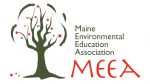 [1] Stone, M.K. (2001). STRAW: Students and teachers restoring a watershed. Center for Ecoliteracy. https://www.ecoliteracy.org/article/straw-studentsand-teachers-restoring-watershed.
[2] Bartosh, O., Tudor, M., Ferguson, L., & Taylor, C. (2006). Improving test scores through environmental education: Is it possible? Applied Environmental Education and Communication 5(3), 161-169.
Jennings, N., Swidler, S., & Koliba, C. (2005). Place-Based Education in the Standards-Based Reform Era—Conflict or Complement? American Journal of Education 112(1), 44-65. doi:10.1086/444522
[3] Wheeler, G. & Thumlert, C. (2007). Environmental Education Report. Olympia, WA: OSPI.
Danforth, P.E., Waliczek, T.M., Macey, S.M., & Zajicek, J.M. (2008). The effect of the National Wildlife Federation's Schoolyard Habitat Program on fourth grade students' standardized test scores. HortTechnology 18(3): 356-360.
[4] Schneller, A. J. 2008. "Environmental Service Learning: Outcomes of Innovative Pedagogy in Baja California Sur, Mexico." Environmental Education Research 14 (3): 291–307.
[5] Ernst, J. A. & Monroe, M. (2006). The effects of environment-based education on students' critical thinking skills and disposition toward critical thinking. Environmental Education Research, 12(3-4), 429–443. doi:10.1080/13504620600942998
Volk, T. L., & Cheak, M. J. (2003). The effects of an environmental education program on students, parents, and community. The Journal of Environmental Education, 34(4), 12–25. doi:10.1080/00958960309603483
[6] Ardoin, N. M., Bowers, A. W., Roth, N. W., & Holthuis, N. (2018). Environmental education and K-12 student outcomes: A review and analysis of research. The Journal of Environmental Education, 49(1), 1–17. https://doi.org/10.1080/00958964.2017.1366155