MMSA's Afterschool Coaching for Rural Educators in STEM (ACRES) project, funded by a $1.2 million grant from the Noyce Foundation, was among those announced by the White House in a press release on October 19. President Obama embraced a cluster of exciting new STEM initiatives as part of his "Educate to Innovate" campaign.
The project provides afterschool educators in rural settings access to professional development in STEM (science, technology, engineering, and mathematics). Over the next three years, the project team plans to reach 500 afterschool providers and 18,000 youth in Maine and at least eight other states.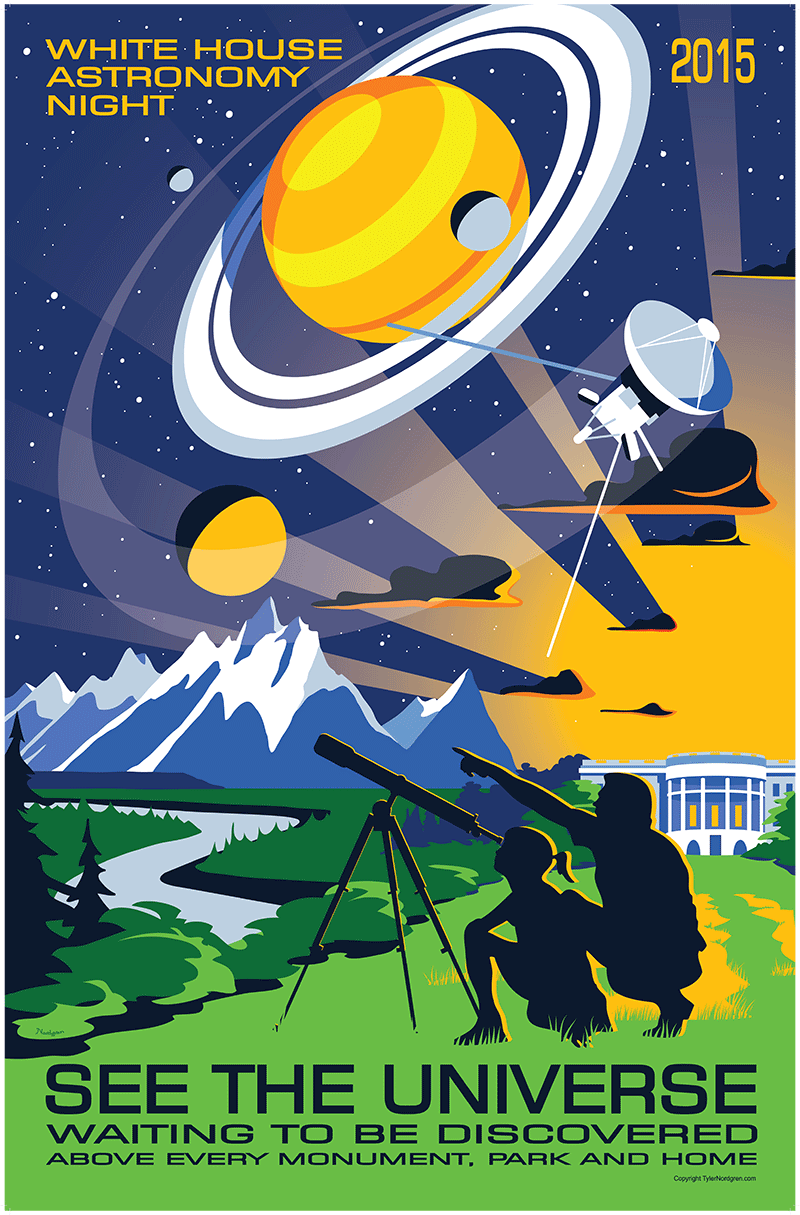 The project's leader, MMSA's senior research scientist Dr. Sue Allen, was invited to the White House on October 19 to attend the President's second-ever Astronomy Night, where she had the opportunity to thank the President for his support of STEM education. She mingled with representatives from other STEM-supporting organizations, as well as invited astronomers, astronauts, engineers, students and teachers, to share approaches to exciting youth to explore STEM activities and careers.
The South Lawn of the White House was dotted with telescopes focused on a broad array of astronomical objects, and there were opportunities to experience cutting-edge technologies such as the Oculus virtual reality system that provides the viewer with a stunning simulation of stepping onto the surface of Mars. In addition to the President's remarks, attendees enjoyed interacting with Jamie Hyneman and Adam Savage of Mythbusters, and Bill Nye the Science Guy. The enthusiasm of the crowd and the perfect weather made for an inspiring event.
MMSA's new ACRES project will use inexpensive technologies to connect afterschool providers in a reflective community, using online platforms such as Zoom. They will use devices such as digital cameras and phones to record their own interactions with youth in afterschool settings, and will share these with their colleagues as they deepen their skills in helping youth engage with STEM activities. The project involves collaborations with staff and volunteers from state and national organizations that serve youth, including University of Maine's Cooperative Extension Service (4-H) and 21st Century Community Learning Centers.
The project will reach beyond Maine. The Maine Mathematics and Science Alliance, with support from the Noyce Foundation, will provide cutting-edge professional development to afterschool educators in rural settings throughout the U.S. Though separated by large distances, they will use mobile devices and online streaming to watch each other's interactions with youth and support the development of research-based STEM skills.