MMSA's Exploring Computer Science (ECS) project launched into its second year with 21 teachers participating in an exciting and fun summer institute on the Bangor campus of the University of Maine at Augusta. This second cohort of the NSF-funded ECS project will continue to expand access to quality computer science instruction for Maine students.
Two facilitators from Massachusetts and two Cohort 1 teacher leaders directed the institute held at the University of Maine at Augusta's Eastport Hall in Bangor. Lisa Marchi and Tom Keller from MMSA also attended the institute. Participants were led through five days of content and pedagogy professional development using the ECS curriculum that was developed through funding of the National Science Foundation.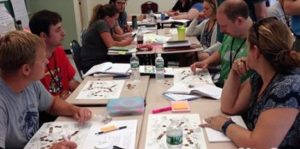 Exploring Computer Science is a six-unit, year-long curriculum that MMSA has expanded through the addition of five lessons that incorporate computer science concepts being used in Maine businesses. These Maine workplace examples are designed to help students recognize that computer science jobs are being done locally and are quite varied in their offerings.
The ECS teachers will be come back together four more times during the school year, in person and virtually, to complete their professional development program. Each teacher will be implementing ECS units in the classroom during the school year. The ECS course was designed for students to take once they had taken Algebra I and meant to be especially inviting to girls and ethnically underrepresented students.
These 21 new-to-ECS teachers herald from Madawaska to Gorham (6 hour driving time spread) and include six teachers from Washington County. "Expanding the reach across Maine is an important aspect of this project," said Tom Keller, MMSA Senior Research Scientist and Principal Investigator on this NSF project. "It's crucial to include rural students in this work and give them the tools they need to use all the possibilities that broadband connections and computers and apps bring to them. Maine is the most rural state in the nation, and including these teachers in so many rural areas helps meet Maine kids where they live."