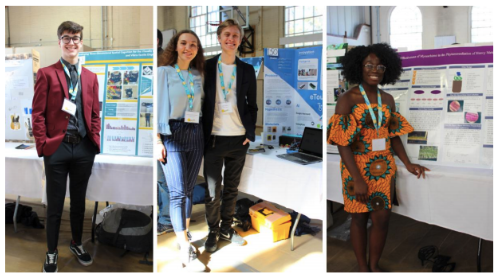 Last month 249 student research projects were presented at the 73rd Maine State Science Fair at Bowdoin College. High school students from across the state came together to celebrate science and engineering, representing 35 schools, from Fort Kent to East Machias to Fryeburg.
Four students were awarded the Intel ISEF Grand Award at the Maine State Science Fair. Tyler Delargy of Bangor High School placed first. His project was in the Engineering Category, entitled, "Developing Three-Dimensional Spatial Cognition for the Visually Impaired Using Computational Depth Mapping and Vibro-Tactile Display". Second place winners were Antonina Zakorchemna and Artem Laptiev of Fryeburg Academy. Their project was in the Engineering Category, "Product Development of an Alternative Low-cost Braille E-Reader". The third-place winner was awarded to Amara Ifeji of Bangor High School. Her project was in the Plant Sciences category, "Testing the Effectiveness of Mycorrhizae in the Phytoremediation of Heavy Metals from Stormwater". These students will travel to Phoenix, Arizona in May to represent their work, their schools and their state at the Intel International Science & Engineering Fair.
26 students received scholarships from colleges and universities from around the state. The University of Maine awarded 12 full-tuition renewable scholarships; College of the Atlantic awarded two $20,000 renewable scholarships; the University of New England awarded five $5,000 renewable scholarships; the University of Maine at Augusta awarded two $1,500 renewable scholarships; Husson University awarded five $1,000 scholarships.
Four students received Experiential Awards, which was new this year. Students who received this award will have free tuition to one of four STEM programs this spring and summer. Programs include the Hurricane Island Advanced Marine Biology Summer Program, iXplore STEM Summer Program, the Keller BLOOM Program, and the UNE Health Careers Exploration Camp.
Congratulations to all the winners at this year's Fair! For a full list of student winners, please visit our website: https://mmsa.org/2019/03/maine-state-science-fair-2019-award-winners/
The Maine State Science Fair is co-sponsored by The Reach Center at Maine Mathematics and Science Alliance and The Jackson Laboratory.